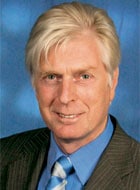 One of the best known and most well-respected editors in the industry, Siegfried Best, retires today. He has spent 31 years of his career in electronics journalism, and has made many friends through his knowledge, professionalism and friendly, good-humoured nature. As most people reading this post will know Siefried well, here are a few facts that you might not know:
He started his career in the German Army (Bundeswehr), working for 7 years repairing shortwave transceivers
He left the army to study Communication Electronics at the University Regensburg Study, graduating in 1974
Siegfried worked on the development of Shortwave Receivers and transceivers for Tornado Fighter after university
His first book "DX-Vademecum" (a book about shortwave communication) was published in 1979
In 1980 he joined Hüthig-Publishing as editor of elektronik industrie, a role that he held for 13 years
In 2003 he returned to elektronik industrie as editor-in-chief, a position he has held until his retirement today.
The great news is that Siegfried will not be lost to the electronics industry, as he plans to continue working as a freelance.