What we do
We take our knowledge, experience and insight to increase the speed prospects travel through your funnel, generating opportunities more quickly. Our unique approach to campaign strategy designs-in speed to our campaigns from the outset, building integrated campaigns that focus on the important tactics, whether you need to increase awareness, generate leads or engage contacts to create opportunities.
Napier's Four-Step Process
Our unique four-step process takes the best research on effective ways to deliver great PR and marketing campaigns and distils it into four simple steps: DETERMINE, FOCUS, DELIVER and ENHANCE.
In the DETERMINE step, we build deep understanding of the situation to work out how to outsmart your competition. We look at the client, their markets, products, technologies and competitors, using a combination of analysis tools, research and our experience to paint a detailed picture of the situation and the opportunities for our client to grow. The FOCUS stage builds clear profiles of the audience we need to reach, the best channels to communicate with them and the messages that will resonate with their particular situation. We then DELIVER the work using the best tactics to achieve the campaign goals. Finally we are continually measuring the campaign performance to ENHANCE it, making adjustments when optimisations come to light, rather than waiting for the end of the campaign to measure and report.
Our 4-step approach approach ensures we generate the best possible campaign to move your prospects from awareness to opportunity quickly and effectively. We our proud of our ability to enhancing our clients' marketing efforts using the 4-step approach. It means we deliver campaigns that excite, engage and enthral. Whether it's a local event or a pan-European campaign, our proven expertise ensures our efforts focus on getting the right results for our clients.
Learn more about the Napier 4-Step Process in our blog posts: Our 4-Step Process for Delivering Great Service and Why Did Napier Invent another Planning Process for Marketing and PR?.
Campaign Strategy
Our unique approach to campaign strategy strips out the unnecessary to create optimised campaigns.
Awareness
We get you noticed. Increased awareness drives prospective customers into your sales funnel.
Lead Generation
We convert awareness into leads, allowing you to engage personally with your target customers.
Engagement
Engaging and exciting your prospects reveals the opportunities that will drive your sales.
Proven Quality: PRCA CMS Certified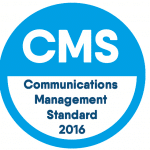 We deliver outstanding quality in everything we do, and Napier is certified to the Public Relations and Communications Association (PRCA) Communications Management Standard (CMS) – the hallmark of PR excellence. CMS combines elements of 'ISO9001' and 'Investors in People' with criteria specific to a PR and communications consultancy.