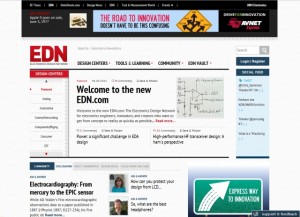 The new EDN.com site has launched and the focus is on social. It's an interesting move, with stories ranked by number of comments as well as a most recent stories feed.
I have to say I'm not convinced by the move. Adding social elements to a publication's site is a good move, but we also know that keeping social interaction going is going to take work: particularly when that community is a group of electronics design engineers. On most publications, the vast majority of stories attract no comments, and whilst EDN is likely to do better than most, I can't see why engineers will behave completely differently on one particular site.
The social makeover also means that the thing I really value from EDN – the great journalism – has taken a back seat. It just seems much harder to find articles about the topics that interest me.
Despite my concerns, I'm optimistic that this move will work out for EDN, provided that they behave like a start-up rather than an established old-world publisher. The social element could be a real winner, particularly if EDN can encourage more interation, and frequent tweaks and tests will allow UBM to iterate to a site that mixes editorial and social content in an efficient and useful way. I'll be interested to see whether any other publications (including EDN Europe, which hasn't had the same social makeover) follow EDN's lead.