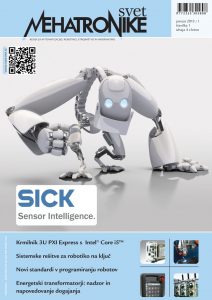 Whilst Western European publishers wonder about the future of B2B magazines, Eastern European publishers are launching successful new titles. AX elektronika d.o.o. has just announced Svet mehatronike, which will be formally launched at IFAM, the automation show to be held at the end of January in Celje, Slovenia.
Svet mehatronike will have 4 issues in the first year and a circulation of 3,000, although I'm told that in 2014 the frequency is expected in increase to bimonthly, and the circulation will also grow. The publisher has chosen an interesting model: the magazine is technically "free", but subscribers pay for postage. With this amounting to just 4 Euro for 4 issues, costs are unlikely to be an issue to readers, but it will mean that subscribers are much more likely to read every issue (and the extra revenue is probably also a good thing). The magazine will also be distributed at partner companies and in high schools and universities that specialise in mechatronics.
Whilst it's always good to see new titles launched in Europe, I'm fascinated by the idea of a nominal subscription. Whilst the revenue isn't going to be enormous, it's certainly significant for a Slovenian publication, and I'd always rather see my adverts in a publication which readers are prepared to reach in their pockets and pay for. Perhaps this could be a trend we see spreading to other titles?