Danish title Elektronik & Data *www.elek-data.dk) has redesigned it's online presence, providing more opportunities for advertisers. Banner sizes have been significantly increase and there is now an opportunity to place white papers and brochures on the home page.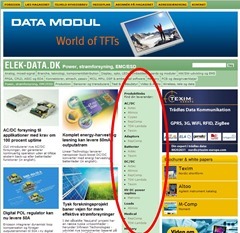 The site has also introduced "Product Links", which can be thought of as an "intelligent directory" – links to vendors are placed next to relevant stories. It's also designed to be a low-cost solutions, with Product Links costing less than Euro 400 per year.
Readers haven't been forgotten in the new design – the layout fits in a lot of information in an attractive and easy-to-read layout.
It's good to see publishers looking for innovative ways to drive revenue: whilst the product links are not a dramatic technical advance, it's a great way to offer brands cost-effective exposure, and also enriches the editorial with links to relevant suppliers.