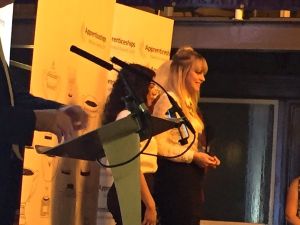 We are delighted to announce that Freya was named the South East Intermediate Apprentice of the Year, at last night's awards ceremony in London.
The National Apprenticeship Awards recognises the achievements of outstanding apprentices and the companies that employ them, and we're thrilled that Freya has been selected out of 12,000 applicants, and recognised for the hard work she has done during her apprenticeship.
Since completing her apprenticeship this summer, Freya has joined Napier on a permanent basis as a marketing specialist, supporting our clients in a range of areas including video editing, email marketing, advertising and media relations. She is also studying towards a CIM Certificate in Professional Marketing.
Freya now moves on to compete for the National Apprentice of the Year Award.
Congratulations Freya!