It has clearly been a very busy time for Alfred Vollmer since he was promoted to editor-in-chief at Hüthig. We finally managed to grab some of his time to talk to him about the promotion and his view of the future for the electronics media in Germany.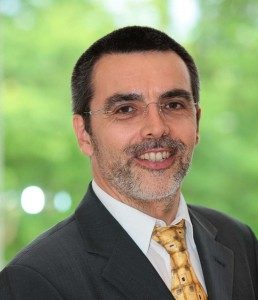 Congratulations on the promotion: can you tell us about your new role?
Yes, of course. I've now been editor in chief of four print magazines and one website for about half a year. I'm responsible for the print publications elektronik industrie, elektronik journal, AUTOMOBIL-ELEKTRONIK and emobility tec; as well as the website www.all-electronics.de.
Do you plan any changes to the publications in the next year?
Nothing major in mind, however, we constantly watch the market and react in order to meet the needs of our readership.
In cooperation with the VDMA (The German Mechanical Engineering Industry Association), we'll launch a new congress on February 1 and 2, 2017 in Munich, Germany: Our new medical electronics congress is intended to be a kind of summit meeting for executive managers in the medical electronics community with focus on supporting networking along the entire medical electronics value chain.
In Germany, publications seem to be doing well. Why do you think there is more advertising support for electronics titles in Germany?
Let me ask you another question: why is Germany's industrial and automotive industry so strong? May be one of the reasons is the German kind of mindset, and part of this mindset is appreciating print and reading the news and stories on paper. With print, it is much easier to get an overview of the latest technologies. While surfing you easily drift away. Our magazines provide carefully prepared content tailored to the needs of the individual readership of our magazines. However, when you search for a specific product that you need for a specific application, the web is a fantastic resource.
Germans like print media, so the reader response is high, which means that print advertising exactly meets the potential buyers of the products.
What do German engineers look for when choosing a publication to read? How do you plan to meet these needs?
German engineers are like engineers all over the world: they need facts and the inputs they really need in order to get their jobs done. The pressure on engineers these days is very high, which means that they need to get their updates in a very efficient way. Therefore, they rely on information sources they can trust. Information is available everywhere, but gathering and sorting information is very time-consuming. We help the engineers to stay up to date in a very time-efficient manner by providing the information they need.
This summer the market research institute "tele research" conducted a reader survey on behalf of our publisher. Tele research found out that 80.5% of the readers say that elektronik industrie provides extensive and complete information. This shows me that all the members of our editorial team really meet the needs of our readership: the design engineers; and we are very happy that 86% of the readers voice the opinion that elektronik industrie reports are objective and factual!
Most German engineers speak and read English to a very high level. Why don't they just read English-language publications and websites?
The work load on engineers is very high. Whatever makes their work easier is much appreciated, and for a German native speaker reading German IS much easier to understand than any other language. Furthermore, most Germans learned English at school, however, most of them did not live in an English-speaking environment, specifically they were not raised in a country where English is the common language. Therefore, we quite often do not have the cultural literacy of a native speaker. Let me give you an example: When an American talks about some "plain vanilla technology" he just means a very simple technology without any frills, and all the native speakers know this. Germans learn a lot of idioms but at least the first time they read "plain vanilla" they don't exactly know what it means, and may-be think of ice cream while simultaneously knowing that this doesn't make any sense at all. Issues like this one are time-consuming to resolve and do not happen while reading German. This is also the reason why we sometimes restructure sentences while editing: in order to facilitate the reception of the contents.
Furthermore, a good German editor edits texts in a way that the reader can easily "inhale" the content of the text. The American journalist Jack Anderson once said about American journalism that it follows the following principle: "First, tell them what you are going to tell them. Second, tell them. Third, tell them what you have told them." Good German magazine journalism is different as it just follows the "Tell them" and nothing else. We do not have to teach engineers about Ohm's law anymore. They already know it. The magic of good German magazine journalism is to know what the reader exactly needs to read at a specific point of time. Two decades ago we also explained to our readership that "DSP" means "Digital Signal Processor" but now we take the knowledge about this TLA (three-letter acronym) for granted. And all those who do not already know it can look the TLA up in our abbreviation list at http://www.all-electronics.de/abkuerzungsverzeichnis/.
I am very happy that our editorial team really meets the demands of the readers; otherwise the reader survey wouldn't state that "almost 60% of the readers say that elektronik industrie has such a high benefit for their work that they would not want to do without it in the future". 96.1% of the readers find that elektronik industrie is easy to read and comprehensible! I think it will be difficult to get such a feedback from German engineers about English-language publications and websites.
You spent some time working in marketing. Why do you prefer being an editor?
Working in marketing is great, but I prefer being an editor as I can get a much better overview and I am able to meet with a lot of very interesting people.
Why have you been so busy? It has taken several months for us to arrange this interview.
We didn't have an easy time in our editorial team. Dr. Achim Leitner, who used to be the editor in chief until March 2016, had worked really hard, and it took time to fill the gap just from a capacity perspective. Since October 1, 2016 we have another very experienced team member which is well-known in the industry: Dr. Ingo Kuss is now part of our editorial team and ready to systematically increase his responsibilities. Furthermore, Hans Jaschinski, who has been on sick leave for 2.5 years will be returning to work starting at electronica. And we are still looking for additional editorial talents with strong electronics engineering background in order to grow our editorial team.
What's your favourite gadget?
My favourite gadget is my precise training heart rate monitor. It allows me to tailor my workout directly to my actual fitness level at the individual time of training. This makes training very effective, and with its GPS functionality and the web connection it is even more fun.