This is a summary of all of the blog posts we have written about Elektronik Informationen up to December 2018.
elektronik informationen increases print circulation
August 2nd, 2016
Print still refuses to die, particularly in Germany. Despite the costs of print and postage, elektronik informationen has recently increased their circulation from 28,000 to an impressive 31,000 copies. It's great to see publications growing, even in these digital times, and it's clear that there is still strong demand for printed magazines in Germany.
Interestingly, in the same email that they sent me to talk about the print circulation, the publishers also pointed out that another success story was their lead generation service, including the customised email newsletters that they offer. So while print remains important, it's clear that the German market has also taken to digital media: perhaps this the the country that will be best at balancing the traditional forms of media with new technology.
Irina Hübner leaves EL-info
April 11th, 2014
Irina Hübner is leaving Elektronik Informationen. She'll be staying in the industry, and we'll let you know where she ends up.
AT Fachverlag, publishers of Elektronik Informationen, acquired
June 20th, 2012
Holzmann Medien GmbH & Co KG, based in Bad Wörishofen has acquired AT Fachverlag GmbH and AT Medien GmbH. In addition to Elektronik Informationen, the two companies also publish Photonik, Photonik International, Biophotonik, the EOS Newsletter, Hotel & Technik and one of the leading periodicals in the plumbing and heating trade, si informationen. The 22 employees, as well as readers and advertisers in the publications, will be pleased to hear that the new owners promise work will "continue unaltered".
Elektronik Informationen updates online presence
January 25th, 2012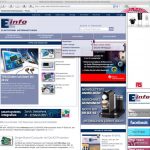 Elektronik Informationen has updated the layout of the website and the design of their email newsletter, which is now sent twice a week. The focus on development of their online presence isn't a surprise, but their decision to continue to require registration to view any technical article is interesting. This decision might reduce the number of page views achived slightly, but has huge potential to benefit both the publisher and electronics companies.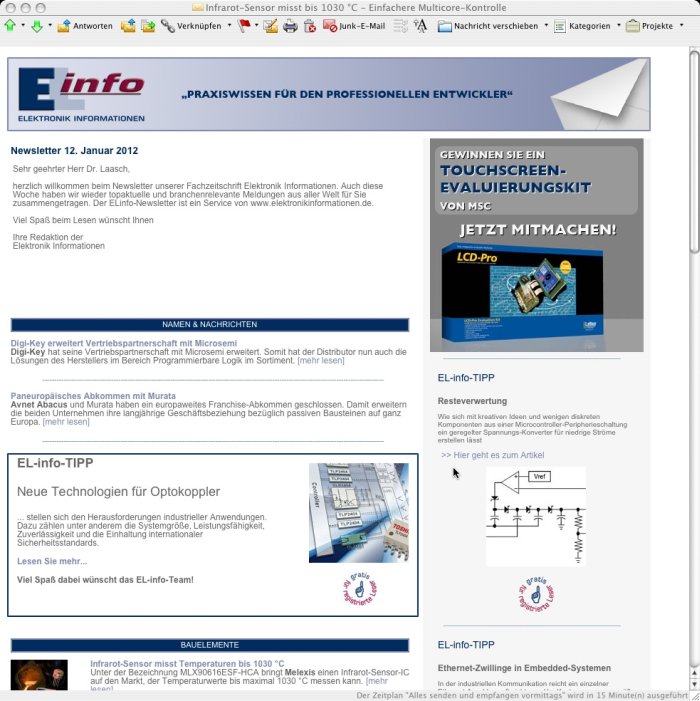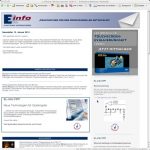 In other industries, online publications focus more on lead generation than publishers in the European electronics market. I believe that, despite the challenges in the electronics sector, lead generation should be a bigger part of electronics publishers' business models. I really hope that by putting a value on high-quality content Elektronik Informationen will help companies get more from the content they generate.
Nick Walker takes on E. Informationen
August 29th, 2010
Nick Walker, the advertising manager for EPN has added the role of UK rep for Elektronik Informationen, Photonik, BioPhotonik and Photonik international to his portfolio.
Elektronik Informationen launches three special issues
October 17th, 2009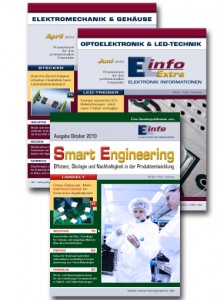 Elektronik Informationen is planning for 2010 with confidence, announcing three special issues covering "Electromechanics & Electronics Packaging" (April), "Optoelectronics & LED Technology" (June), and "Smart Engineering" (October). Smart Engineering will cover efficiency, ecology and sustainability in electronic product development. These special issues will each have a circulation of 22,000, and be in addition to the normal monthly magazine.
It's great to see a title like Elektronik Informationen planning to expand in 2010, and they have definitely picked some exciting topics to cover.
On a separate note, Elektronik Information is moving to Eversbuschstrasse 134, 80999 Munich, Germany. Their telephone numbers will remain unchanged.
Elektronik Informationen to redesign
February 22nd, 2009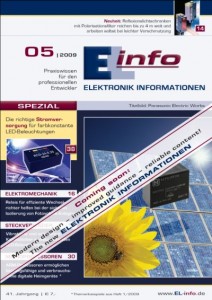 Elektronik Informationen plans a relaunch in May, with a clean new look and the funky new name of EL-info (www.el-info.de already routes to the existing Elektronik Informationen site). The relaunch follows-on from the appointment of Dr. Matthias Laasch as editor-in-chief, and demonstrates a commitment to suceed in the hyper-competitive German electronics magazine market. Although design is important, of course content remains king, and so I'll be looking at the content of the title over the next few months: check back on Napier News to see what I think.
Editor interview: Dr. Matthias Laasch
January 26th, 2009
The editors working in the European electronics media are genuinely interesting people. I've wanted to put together a series of interviews and am delighted to have finally started this project. Even better, the first editor I talked to was Dr. Matthias Laasch, the hugely experienced editor who recently took over the helm at Elektronik Informationen:
What do you most enjoy about your new job?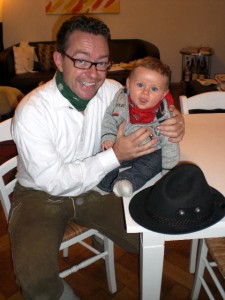 Working with Elektronik Informationen is a challenge for several reasons.
First, it is a 40 year old magazine which I have known for more than a decade. For me personally, it has been a reliable information source on electronics. Clearly it will be an exciting challenge to continue and (hopefully!) improve on the success of this established periodical. Second, when I started my career it was with F&M ten years ago, when the magazine was strongly dedicated to electronics. We drove it to focus more and more towards mechatronics and automation, but now, with Elektronik Informationen, I'm returning to my "editorial roots". I enjoy working in this extremely dynamic and competitive marketplace.
Which areas of electronics interest you the most?
I spent years with magazines that covered mechatronics; photonics and micro production; industrial applications; and opto electronics and micro systems, such as MEMS or MOEMS, so these are in my personal focus. But from the editor's point of view, any true innovation is worth being considered – as long as it concerns electronic engineering.
Do you have any plans to enhance the magazine or website over the next year?
Yes, of course! We have many plans to extend the editorial content, enhance the editing and improve the crosslink between print and online. But as I started only three weeks ago, it is too early to be specific. In my previous job, I established new publications and hopefully, Elektronik Informationen will benefit from this experience.
What is the main factor that makes a press release interesting?
First of all, it has to meet our editorial focus, electronic engineering. It must concern the engineer. The second criterion is up-to-dateness. Is the product or information really new or is it raked up? We also appreciate PRs that particularly address the core editorial themes of an issue. Generally, serious product information is better than a collection of marketing statements. A fact-bound, brief description is better than a blown-up novel.
Moreover, as we address German-language markets only, we appreciate press releases in German.
What do you enjoy doing in your spare time, when you're not editing Elektronik Informationen?
At the moment, there is very little time left. My major hobby is our 10 month old baby boy who is the most exciting experience I ever had. Hopefully, in a few years, we will share my favourite activities, such as sports (badminton, soccer, cycling, skiing), travelling, mountaineering or photography. Besides changing baby's nappy, I love everything I can do outdoors.
Do you personally prefer to get information in print or online?
Online! Online information is faster and much easier to handle. As a matter of fact, simply including the text in the message and attaching the pictures is the very best way – the easiest, fastest and most comfortable way. I would not recommend providing the files via a website or virtual press room because the download takes additional time and, in some cases, I can spend even more time searching for a password. And time is the most critical parameter to any editor.
What is your favourite gadget?
When our son was born, I bought a high-definition camcorder, as probably everyone does at this stage of life. Well, it is a great toy, and we will certainly be happy having stored all these exciting moments in our baby's first months. I recorded hours and hours… but never thought about cutting and making something like a movie from all the material. Will I ever do it?
Once again, time is the limiting parameter …
Hubert Joas to retire
November 17th, 2008
Hubert Joas, the popular editor of Elektronik Informationen and technology stock market guru, is to retire at the end of the year. He will be replaced by Dr. Matthias Laash, who will move from his role at Mechatronik.
Franz-Joachim Rossmann leaves Elektronik Informationen
March 31st, 2005
Franz Rossmann has left Elektronik Informationen, leaving an editorial team of Hubert and Hubert. We understand that the Chief Editor, Hubert Joas, is looking for a replacement.
Elektronik Informationen email newsletter
January 7th, 2005
Elektronik Informationen have done a great job of re-launching their site and they've also started a weekly email newsletter. It's good to see that a small editorial team can deliver such a comprehensive online product.
Elektronik Informationen hires new journalist
November 15th, 2004
In a departure from their policy of only hiring editors called "Hubert", Elektronik Informationen has taken on Franz Joachim Rossmann as their third full-time editor. Rossmann was a key figure in the rapid rise of D&V, and we think that this is a great addition to the team at Informationen. It's also great to see some confidence in the strength of the market from a publisher! It just remains to be seen if Rossman can match Hubert Joas' investment advice.