This is a summary of all of the blog posts we have written about Electronica up to December 2018.
WNIE TV Release electronica 2018 Playlist
November 27th, 2018
WNIE TV has released its electronica 2018 playlist, featuring TV interviews with experts across the industry.  WNIE interviewed companies from all areas of the electronics industry for its 'Your Eye on the Electronics Industry' TV Series.
The interviews included an overall update of the company featured, how the profile of their customers has changed over the years, markets it is focussed in, their view of electronica 2018 and how the company has adapted its strategy.
Other key interviews include a roundtable discussion of Big Data and AI in the Smart factory of Tomorrow.
To view the full playlist and watch the videos for yourself please click here.
Your 'electronica Toolkit'
October 29th, 2018
With electronica 2018 quickly approaching, we've been brainstorming how we can help the industry get themselves ready for the biggest trade show of the year. We decided that the best way to help you and your company prepare for electronica, was to provide you with an outstanding marketing toolkit, that covers everything you need to know in the run-up to the trade show.
This blog will highlight Napier's best tools and pieces of content, and the order you should use them; to help you achieve everything you need for success when attending or exhibiting at electronica 2018:
In preparation for electronica, the first thing you want to do is make sure your money is well spent. This means spending time thinking about what you can do to increase ROI.
Our tip sheet '9 Steps to Increase Trade Show ROI', can help you focus your attention in the right direction to maximise ROI.  This tip sheet can help you understand why a planned approach is the way to succeed and how you can implement this in your marketing strategy.
Now you know what you need to do to increase your ROI, the next step is defining who you want to meet and what you need to do to gain their attention.
Our B2B Persona Creator Tool allows you to develop B2B personas for a specific campaign, and truly understand your target audience from the beginning. All you need to do is answer the questions provided, sit back and watch the tool do the work for you.
So, you've defined who you want to meet, and how you want to target them. But how do you work out if the people you have met are quality leads or just irrelevant contacts
Napier's MQL and SQL definition tool allows you to personally identify what information and behaviour qualifies your leads for either marketing or sales. The tool asks you a series of questions and provides an easy to read breakdown of your information; successfully defining the behavioural features you look for in a MQL or SQL.
Trade shows (especially electronica) are a great platform to interact with journalists. It's important to remember to meet with journalists as well as potential clients.
Shows present you with an exclusive opportunity for meeting and briefing journalists face-to-face. Yet, there are also other companies trying to make an impact on these journalists. So, how do you make a bigger impact over others? Our tip sheet has 7 tips to help you get the edge over your competitors.
Following up after the show is essential to your success, and ensures you keep benefiting for months to come. Marketing automation is the most effective way to make sure you are following up your leads quickly, and efficiently.
Our tip sheet highlights why marketing automation is so crucial to post trade show follow up and how it can help you achieve a better return.
electronica India and productronica India welcome over 500 exhibitors from 27 countries
September 17th, 2018
electronica India and productronica India have welcomed over 500 exhibitors from 27 countries as they take place from the 26th-28th September. Held at the Bangalore International Exhibition centre in Bengaluru, the trade fairs are showcasing a range of electronic technologies; focusing on components, systems, applications and innovative electronics production technology.
With a rapidly growing interest in the Indian electronics industry electronica India and productronica India will likely benefit, with Messe Muenchen India organising the biggest ever edition of the show, while IPCA Expo will be co-located with the trade fairs for the first time.
This year the trade fairs feature new topics and discussions at co-located supporting programs. This includes the PCB Tech conference which will focus on the importance of a robust supply chain and value addition to strengthen the PCB sector in India; as well as the CEO 'vision for quadrupling to a US$ 400 billion electronics industry' forum.
2018 marks the biggest edition of electronica India and productronica India seen so far, and we look forward to hearing the best moments from the electronica India and productronica India trade fairs this year.
Electronica Azi gets a new look and goes International
January 20th, 2017
The popular and successful Electronica Azi publication from Romania has got a new layout and new content to kick of 2017. This recent update to the Romanian publication includes additional info on SMT Equipment and applications as well as more information and tips for Hobbyist applications, bringing the page count up from 44 pages to 64 in the second part of 2017.
Electronica Azi has also expanded to offer its extensive readership an international version in English. Aside from content being in English, this international version will include more coverage of embedded systems, analogue and digital circuits, wireless data communications, Internet of Things and Industrial Controls. The new publication will be issued 6 times a year in a digital format with 2 special print editions for Embedded World and Productronica. This is an exciting development for this regional publication.
The American view of electronica 2016
November 16th, 2016
After one of the biggest, and perhaps most successful show so far, electronica 2016 came to a close. Publications and journalists came from afar, to gain coverage of this vast trade show, with even American publications such as PowerPulse, providing a huge amount of coverage.
Stories include new product developments, insights of future trends, breaking news announcements, and on-sight interviews. It is interesting to see PowerPulse covering so many stories, especially as it is an American publication, really highlighting the importance of this trade show, and the growing interest publications from all over the world have in electronica.
electronica 2016 attracts 73000 visitors and almost 3000 exhibitors
November 15th, 2016
The organisers of electronica 2016 have announced that 2,913 companies from more than 50 countries exhibited at this year's show, which attracted approximately 73,000 visitors from over 80 countries. Although not quite back to the number of visitors at its peak, electronica seems to be going from strength to strength.
It was interesting to hear that, besides Germany, the countries with the largest number of visitors were Italy, Austria, UK, France, Switzerland, USA, Israel, the Russian Federation, Poland and Slovenia (in that order), with a significant increase in the number of visitors from France, China, Slovenia, Turkey and Israel. This demonstrates the show is doing a good job of attracting engineers and buyers from a wide range of countries with very different electronics industries.
This year, electronica focused on automotive and connectivity (or IoT if you like cliches), two rapidly-growing markets for electronics, with a strong base of European customers. Aspiring founders and start-ups also had their own event, with 35 participants from around the world competing for the electronica Fast Forward Award in the categories "Idea," "Prototype," and "Start-up."
If you missed the show (where were you?), you can get a flavour of it with the photos below: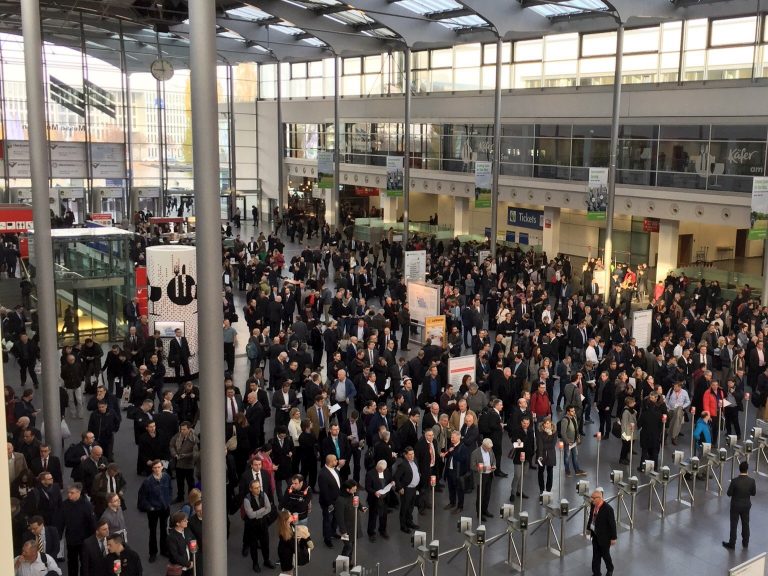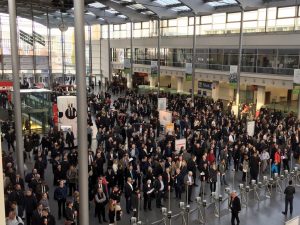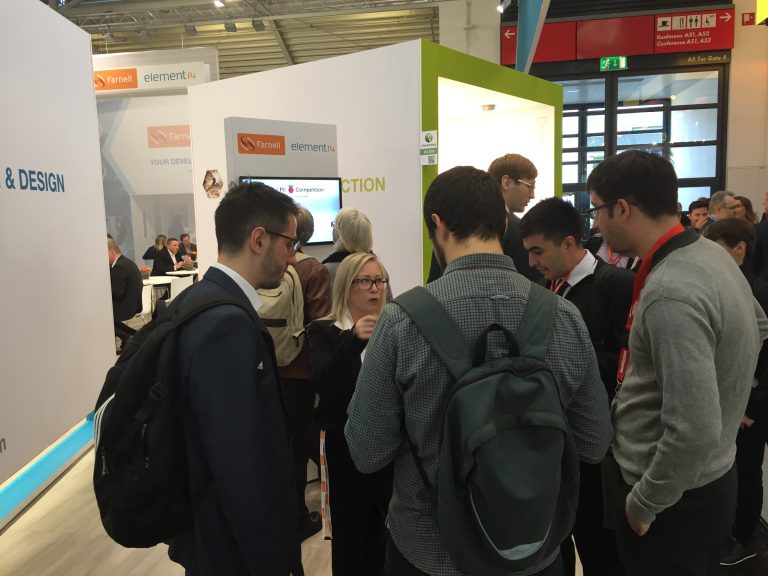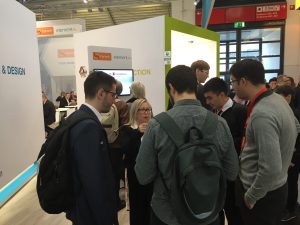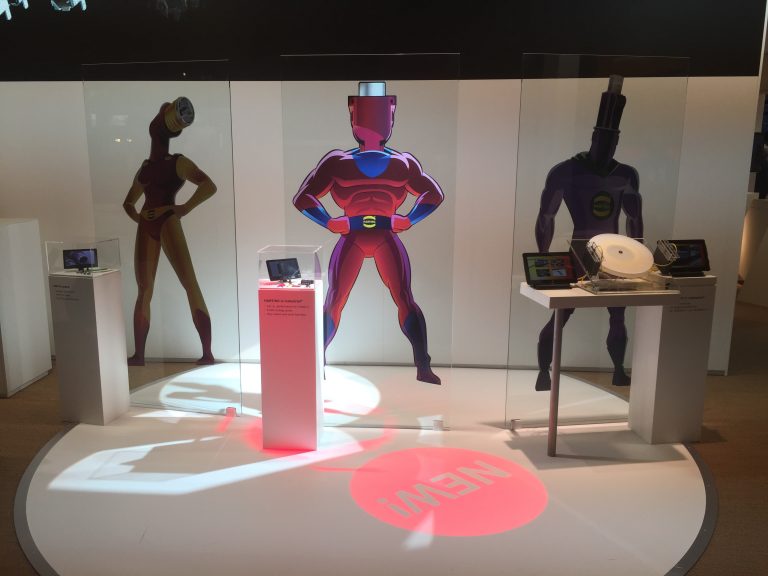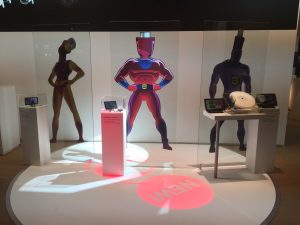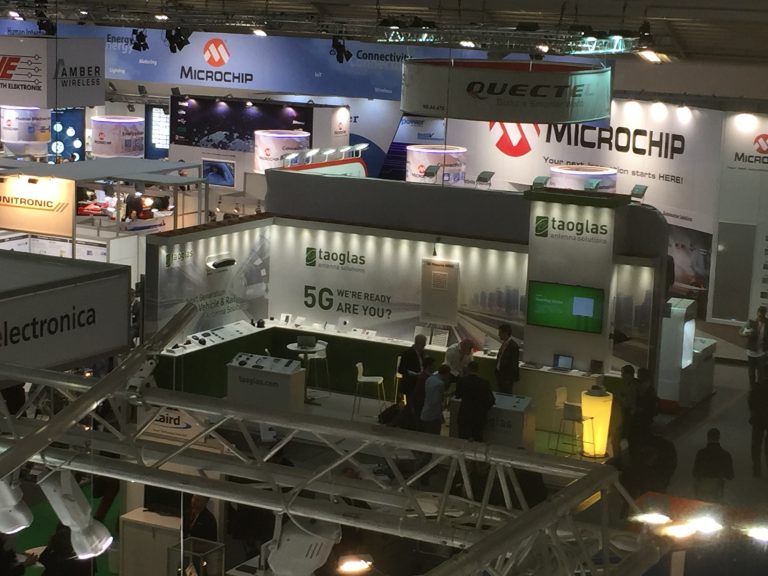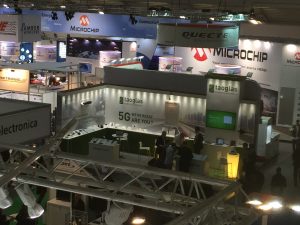 SEMICON Europa to co-locate with electronica and productronica
October 24th, 2016
SEMI and Messe München have teamed up to co-locate SEMICON Europa with productronica and electronica. The addition of SEMICON Europa will provide productronica and electronica with a far greater focus on topics such as semiconductor and hybrid manufacturing.
The two big shows are held on alternate years, which provides a focus on components and design one year, and then a focus on manufacturing and production in the following year. It will be interesting to see how SEMICON Europa deals with this: will there be a greater focus on silicon design and EDA tools in the electronica years, for example?
SEMICON Europa will be held in beautiful Grenoble, France this week. As from next year they will trek over the Alps to Munich, making productronica 2017 (which will be held from 14-17 November 2017) the first time the events co-locate. It will be interesting to see who benefits most from the move: although logic says that SEMICON Europa will stand the most to gain by accessing a segment of the large number of visitors to productronica, the high-value visitors that attend SEMICON Europa will no doubt help to improve the quality of visitors for productronica's exhibitors.
Unprecedented turnout at electronica India and productronica India
October 2nd, 2014

At the recent electronica India and productronica India event there was a huge increase in turnout and a record in participation. This clearly reflects the optimism of the electronics components and the electronics manufacturing industry.
In total 13,906 visitors attended the trade fairs in Bengaluru, which is 20 % more than its previous edition.  With an extensive accompanying programme it made the event even more attractive for visitors.
There was a staggering total of 341 exhibitors, representing 713 companies, which showcased their products, solutions and services at the trade fairs from September 23 to 25, 2014 at the Bangalore International Exhibition Center (BIEC), Bengaluru. With both exhibitors and visitors leaving the trade fair extremely happy.
View the full report for more details on the event.
Electronica India 2014 and Productronica India 2014 to feature extensive technical programs
September 6th, 2014
Electronica India 2014 and Productronica India 2014 have announced they will be highlighting technology innovations and recent developments in the electronics manufacturing sector. With participation from leading companies from the electronics hardware industry, the opportunity to witness the changing landscape of the sector is one that cannot be missed by the stakeholder community.
The trade fairs are poised to kick-off and provide innovative platforms to domestic electronics manufacturers to meet the consumption of electronics in India. Thereby they are supported by various associations like: Indian Electronics & Semiconductor Association (IESA), Electronic Industries Association of India (ELCINA), Consortium of Electronic Industries of Karnataka (CLIK), LED products Manufacturers' Association, India (LEDMA) and others.
More information on Electronica India 2014 and Productronica India 2014 is available here.
ICC Media running Embedded Forum at electronica again
June 4th, 2014

ICC Media has confirmed that it will again run the Embedded Forum at electronica 2014. As a Premium Partner of the show, ICC Media has built up the 4 day electronica Embedded Forum to be an important part of the event. In addition to presentating live, all presentations at the forum are recorded and converted into webinars, creating a virtual post-show event as well as a lead generation opportunity. ICC Media is clearly focussed on building a library of video content, and has been recording the presentations for the past three shows.
The tentative programme for the Embedded Forum, which will be held in Hall A6 is:
Tuesday, 11 Nov 14
13h00 – 15h00: Internet of Things – Challenges and Opportunities
15h00 – 17h00: ARM-based Microcontrollers, FPGAs & SoCs
Wednesday, 12 Nov 14
11h00 – 13h00: Starter Kits and Reference Designs
13h00 – 15h00: Small Form Factor Boards
15h00 – 17h00: Internet of Things: Chips, Tools & Software for Device Development
Thursday, 13 Nov 14
11h00 – 13h00: Motor Control Solutions
13h00 – 15h00: Security for the Internet of Things: Challenges and Solutions
15h00 – 17h00: Embedded Computing
Friday, 14 Nov 14
11h00 – 13h00: Embedded Wireless
13h00 – 15h00: Smart Energy
The organisers are open to modifying this programme and invite exhibitors to send them suggestions for additional topics to be covered at the forum.
electronica absorbs hybridica
September 13th, 2013
In 2014, electronica will add hybrid components to the exhibition portfolio, as Messe München discontinues hybridica as a separate brand.
Our electronica 2010 video blog
November 17th, 2010
I was delighted to be asked by Electronics-Video if I would record a video blog about electronica. The four videos are now up on the vlogs channel of the electronics video site, with a range of content that marketing managers in our industry will find useful, including a demo of the Elektronik Praxis iPad app, and an interview with Kurt Skupin.
There's an app for electronica
October 27th, 2010
Thanks to Tim Fryer for telling me about the launch of 'EasyExpoNavigation', an iPhone app and browser-based tool to help navigate electronica. Thanks Tim: you've taken away our excuses for turning up late!
Free trips to electronica
October 20th, 2010
Publishers need to look after their readers, as there is always competition – even in smaller markets. I was delighted to see that Svet elektronike is taking subscribers & readers to electronica – for free!
The readers will have to help the publication at the show, but this is still a great deal for the lucky readers who get to go on the trip.
ED Europe to return to print for electronica 2010
August 7th, 2010
ED Europe, the long-time digital-only magazine is planning to return to print publishing for electronica. Sadly this is a one-off project for the show, with 10000 copies to be printed and distributed at the event. However it's good to see Penton working hard to promote ED Europe: it reminds me of a conversation I had several years ago with one of the German editors who felt that print would never die because it was the best way to promote a publication's digital and online presence.
ICC Media videos from electronica
November 25th, 2008
I'm sure that online video will play an increasingly important role in the electronics industry and it was good to see several publishers creating video content at electronica, including ICC Media, who have several videos available.
So was electronica good or bad?
November 20th, 2008
Now that all the fuss has died down, I thought I should reflect on electronica 2008. The event was covered widely in the electronics media – if you want to learn more about what happened at the show I'd recommend the EETimes.eu slideshow; elektroniknet's photos and video from the show; as well as the rest of the great coverage across the European electronics media.
There is one key question to answer – was it good or bad? There were definitely some worried faces on the first morning, but overall I think the show was a genuine success. OK, so the visitor numbers were down somewhat. Large companies definitely cut down on the number of American staff travelling to the show. But overall the numbers held up reasonably well, and the good booths had great traffic (just ask DigiKey who ran out of footballs to give away on the second afternoon!). Perhaps the best summary of the event was Mick Elliott's comment on his distribution blog summed up the situation perfectly, "Attendance this year was down seven per cent, which in a year when the numbers suggest the industry is going to hell in a handcart, I would mark as a minor triumph."
Napier electronica 2008 editors' dinner
November 19th, 2008
We had a fabulous time on the Thursday night of electronica at our editors' dinner. With 50 attendees, it was the biggest editors' dinner we had organised at the show, and we just squeezed everyone into the fabulous restaurant owned by Alfons Schuhbeck. We even managed to get a nice mention in Mick Elliott's EPN DistiBlog.
Congratulations to the winners in the raffle, which was sponsored by Microchip: Heinz Arnold editor-in-chief of Markt & Technik (iPod Nano), Achim Scharf editor of Power Electronics Europe (Digital Camera), and Andrea Gillhuber of Elektronik (Wii and Wii Fit).
For those of you that couldn't attend, here are some photos of the event.
Napier editors' dinner 2008
Video your electronica 2008 highlights
October 9th, 2008
The electronics media is continuing to take advantage of "new media", with both ICC Media and Electronic Design Europe again offering online videos of product announcements and interviews. I'm sure that the 2010 electronica will see many publishers offering video, and it will be interesting to see whether the early adoptors will maintain an advantage over other publishers.
PSDE electronica package
July 31, 2008
Pretty much every title in the industry offers an electronica package to boost advertising around the world's largest electronic components show, so I don't try to cover every one in Napier News – simply contact Napier if you want to know the options. PSDE, however, have again put together an interesting offer, with advertisers in the electronica Show 2008 issue (October 2008) benefitting from an advertising audit atudy as well as the pretty standard bonus distribution at the show and the opportunity to feature products in three electronica special ePowerPack e-newsletters.
ICC Media to run embedded forum at electronica
June 24th, 2008
ICC Media will again run the "Embedded Forum" at electronica 2008. This will be the third time the event, which has attracted good-quality attendence at prevoius electronica shows, has been held.
This year all presentations will be recorded and converted into webinars – the first time that this has been done, and in my opinion an excellent way to get more value from the presentations as well as developing the webinar content on ICC Media's websites.
Fun and games at electronica
November 27th, 2006
E&E held an international evening just before the start of electronica, which included a "Bavarian Olympics". The pictures show the Napier team bravely trying Bavarian finger wrestling!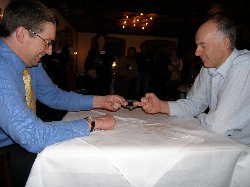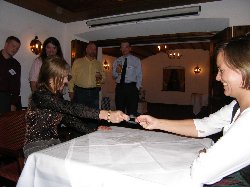 electronica on YouTube
November 27th, 2006
Did you miss electronica? Don't worry – you can catch the highlights on YouTube. Just search for electronica. TSMC even posted a video of them receiving their Elektra award! EE Times, however, preferred Yahoo video, with Brian Fuller even reporting on the body painting that caused a stir in Hall A6.
electronica is over!
November 22nd, 2006
If you are involved in electronics marketing, it's easy to forget that the majority of European customers don't attend electronica, although this year the organisers claimed that a total of 78 thousand visitors attended the show, with a more international mix than ever before. Perhaps trade shows are not quite as dead as some people would have you believe……………
Our experience of the show was that the semiconductor halls were phenominally busy, whereas some of the other halls were quiet. Although the top-line visitor numbers is the key metric for the organisers, we believe it is important that the show covers all aspects of the industry, not just the chip business, and we will be interested to see if any steps are taken to increase traffic to other parts of the show in two years time.
ICC Media Planning Electronica Embedded Forum
September 23rd, 2006
ICC Media are planning an Embedded Forum at electronica, with sessions on Embedded Computing Boards & Modules, Microcontrollers & Microprocessors, Real-Time Operating Systems & Development Tools, and Digital Signal Processing running over four days, the conference will be a valuable opportunity to reach some key visitors at the show. Like other ICC Media events, it's "pay to play", with all speakers paying to get on the bill. Contact Napier for more information, and our views on whether it makes sense for you to participate.
Correction – as from this year, Boards and Solutions UK is not a pay-to-play conference. Organised by the nice people at Invents UK, ICC Media's partners over here, the move to a conference open to all presenters, with papers accepted on merit, has been welcomed by visitors and exhibitors.
Electronica Specials
September 23rd, 2006
The basic rule is everyone does an electronica special. We've tried to avoid listing all the different features, specials, etc. on this site – with the exception of E&E's decision to publish a special in English, which was genuinely innovative – as it would be rather dull. We thought, however, it was worth a mention that M&T would again be doing the show daily, and that the November issue of EPN will have a total circulation of 90K – the largest circulation issue of any of the European electronics titles this year (although additional distibution at shows isn't always of the greatest quality).
Call for papers – Embedded Conference Munich at electronica 2006
February 1st, 2006
The call for papers for the Embedded Conference Munich at electronica 2006 has been issued. The deadline is the 25th April: you need to submit "a compelling abstract" which is at least 3,000 characters (quite a serious abstract!) or complete paper (max. ten A4 pages, font size at least 10 point). Abstracts need to be submitted to Johann Wiesboeck, with an application form, which can be downloaded here.
Don't forget your electronica application forms
November 23rd, 2005
The deadline for stand applications for electronica 2006 is 30th November. Don't forget to submit your forms on time!
Re-live electronica 2004
January 10th, 2005
Is the memory of electronica becoming a bit fuzzy? You can re-live some of the show by visiting EPN's "Live From electronica" page, where you can see videos from some of the stands (each video was paid for by the exhibitor as part of the EPN package for electronica coverage). For anyone at the show, revisiting the event is somewhat masochistic, and if you missed the show, I'm not sure that just 3 videos would be that comprehensive….
Sadly the opportunity to re-live the show does not include any beer or Barvarian cuisine (although fortunately you also don't have to deal with the lack of sleep and headaches!).
electronica 2004 review
November 15th, 2004
Last week most of the European electronics industry was crammed into Messe München for electronica 2004. The packed U-Bahn trains reflected a show that was noticably busier than 2002 (and probably helped to spread the cold that most people managed to catch!).
The key metrics were as impressive as ever: 75 000 vistors, 3017 exhibitors. Interestingly – despite some predictions – the show was MORE international than before with 42% (31 500) of vistors coming from outside Germany! More information about the show is available on the electronica website, and we'll be posting up all the news from the show in the next couple of days.
Electronica's army of media partners
September 16th, 2004
If the number of media partners is an indication of the likely success for an event, then Electronica 2004 should be a fantastic success. Currently Elektronik Praxis, Elektronik, Automotive Electronics and Systems, Automobil Elektronik, Markt & Technik, Electronics Express, Embedded Systems, cmp, Boards & Solutions, ECE, Technik Reveue and Electronic Embedded Systeme are all listed as "Premium" partners. Elektronik Praxis is producing the official fair magazine, and Markt & Technik will again be producing a daily paper at the show. Almost all the German magazines will be producing a show preview – including the Design & Verification who will again produce their handy pocket guide – and the show will also get strong coverage in pan-European titles such as EPN, who will again have their hall-by-hall guide to the show, and have a huge 100,000 circulation for their November issue.
Confused by all the options for promoting your stand? Call Napier for advice on which titles will give you the best return.