This is a summary of all of the blog posts we have written about Electronics Weekly up to December 2018.
Electronics Weekly Reveal Results for Advertising Effectiveness Study
November 23rd, 2018
In September 2018, Electronics Weekly completed an advertising effectiveness study to discover whether print really is a vital part of the media mix for advertisements and news.
Interestingly, the results has allowed Electronics Weekly to prove that print is a vital part of the media mix.
The study revealed that readers spent an average time of 23 minutes reading a print version of Electronics Weekly; considerably higher than the time people spent in online sessions. Further, 60% of readers visited an advertiser's website after seeing it in print, and 49% discussed a print ad with someone else in their company.
The results also disclosed that 36% of readers referred the print version of Electronics Weekly to someone else in their company, whilst 32% requested additional information from the advertiser.
Electronics Weekly's study clearly presents a perspective that print does work for companies; and with the stats given it's hard to argue that print isn't providing positive results.
Electronics Weekly BrightSparks Programme is a Huge Success
May 24th, 2018
The BrightSpark programme for 2018 has been declared a huge success, after highlighting the brightest and most talented young electronics engineers in the UK.
Partnering with RS Components and receiving great support from the industry, including HARTING and the IET; Electronics Weekly formed the BrightSpark Programme to celebrate innovative young engineers in the beginning of their careers, and inspire them to become the people behind great innovations in the future.
The BrightSpark programme has received great interest from the industry, with entries up by 25% and page visits up another 2000 compared to last year. The programme featured a high-profile panel full of industry expertise and knowledge, including Peter Hannon managing director at HARTING UK, a client of our our sister company Peter Bush Communications.
Electronics Weekly featured a BrightSparks supplement in their May issue, detailing the awards ceremony hosted on the 3rd May.
At Napier, we are firm supporters of celebrating success at any stage of your career and it is great to see the industry celebrating the successes of the younger generation. By acknowledging all levels of experience in the industry, Electronics Weekly will encourage more people to choose electronics as their career, as well as inspire current engineers to strive to be the best.
We look forward to seeing how the electronics industry evolves with these talented engineers, and who will be behind the great innovations for the electronics industry in the near future.
Napier attended the Elektra Awards!
January 10th, 2018
Napier recently attended the 2017 Elektra Awards, hosted on 6th December at the Grosvenor House Hotel in London.
The awards ceremony was filled with experts from all across the industry, and for the first time at Napier, we decided to host our own table at the ceremony.
Members of our team including Mike Maynard, Chloe Wilcox, Janice Ashton and Freya Ward represented Napier at the awards; and they took great care of our client attendees, which included Natasha Sephton-Pike from Harting Ltd, Alex Price from Vicor, Raffaella Ricci and Neil Campbell from Anritsu and Holly Smart from Premier Farnell.
We also made our mark on the award's ceremony by presenting our very own RFiD card holders – Napier Themed!
We would like to thank the Electronics Weekly team for a fun-filled night, we're looking forward to the 2018 Elektra Awards already!
Changes to Electronics Weekly's editorial team
November 24th, 2017
Big news has been revealed this week by Electronics Weekly.  Josh Brooks who has been with the company for over three years and took on the role as editor in April, has made the decision to leave Metropolis at the end of the current year. Josh has been part of the Metropolis team for over 7 years but has decided to dive into a new challenge at the beginning of 2018, and will be replaced by Clive Couldwell.
Josh Brooks said "It's been a real privilege to work on Electronics Weekly for the past three years and I am grateful for the warm welcome I've had in this industry. I am sure Clive will be an excellent editor for what is a great title. I wish both the industry and team here at Electronics Weekly every success in the future."
Clive Couldwell currently has the editing role at the sister title AV magazine, and will now take on the role as group editor. This will be a big challenge for Clive but we are sure he will thrive in his new position. Clive has more than three decades of experience, winning awards in print and has had various editorial roles in the electronics industry.
Clive Couldwell said: "I've known and admired Electronics Weekly for as long as I've been a journalist, so it's a great honor to join the team and I'm looking forward to working on the title and getting to know the industry better. I hope that my background and portfolio of skills in a range of markets and media will complement what is one of the most experienced teams in the industry."
Electronics Weekly also plans to recruit a news editor to increase its news output in print and online. Nick Stimpson who currently has the role of managing director of Metropolis Business Media will now become publisher of Electronics Weekly and will assist running the title alongside Clive Couldwell and commercial Director Steve Ray.
Nick has stated that: "Clive is a talented editor who has developed and launched many new products across AV Magazine's portfolio in his time on the title. He will be a great addition to Electronics Weekly's editorial team and I look forward to working with him in his new role. I'd also like to thank Josh for his contribution at Metropolis over the past seven years and wish him all the best for the next stage in his career."
At Napier we are wishing everyone the best of luck in their new job roles and future careers. It's exciting to see Electronics Weekly making changes to their editorial team and we can't wait to see what direction the title takes.
Electronics Weekly launches guide to digital advertising
August 12th, 2017
Electronics Weekly has created a white paper titled The EW Guide to the Digital Galaxy, which aims to answer questions such as:
How do I get better banner performance and ROI without spending more money?
What are the top performing campaigns doing to get great consistent results?
What are the mistakes I need to avoid?
Which banner unit performs better & what should I invest in?
What can I expect & what are the benchmarks?
Should I be more focused on mobile?
How do I assess the effectiveness of a banner campaign?
Where do I start?
The guide was actually developed from a presentation Steve Ray, commercial manager at Electronics Weekly, gave at a Napier lunch event, and so we know how insightful and useful this white paper will be for marketers. Although the analysis focusses on the electronics industry, the conclusions will be valuable to marketers in any B2B technology sector.
The information is based on deep and wide statistical analysis from over two years of campaign and audience data. It includes case studies, valuable advice & tips, seasonal trends, campaign analysis, ad unit analysis, top/bottom performance trends and much more. The white paper is available to .
Electronics Weekly Announces the Launch of EW TV
August 10, 2017
Electronics Weekly has announced the launch of a new reader and advertising service EW TV. The publication has previously prided themselves on the video content they host on electronicsweekly.com, and has decided to take this one step further, creating a dedicated TV channel to host all video.
The launch comes after Cisco pronounced that by 2021, IP video traffic will account for 89% of all consumer internet traffic, which is up from 73% in 2016. Additionally, from 2016 to 2021 CAGR will be 21% in Petabytes per month, in the B2B space alone. As a publication, which is continually innovating, and keeping ahead of the curve, Electronics Weekly are embracing the new-found importance of video, as a way to engage and create more opportunities for their audience.
Electronics Weekly has also decided to celebrate their launch across the B2B electronics industry, inviting marketers and businesses to send them a link to their own video, which will be uploaded to EW TV free of charge, subject to the editor's approval.
Yet, be aware this is a time sensitive offer, as Electronics Weekly will only be accepting video links free of charge until the 30th September 2017. From the 1st October 2017, Electronics Weekly will charge to publish video content on their EW TV channel.
Further to this unique opportunity, Electronics Weekly are offering the services of their in-house video team and studio, to help businesses who are unfamiliar with video content embrace this opportunity. Their help includes creating a variety of video content such as corporate videos, product tests, webinars and lead generation programmes.
To find out more information and how Electronics Weekly can help you bring your products and content to life through video, contact steve.ray@metropolis.co.uk
IoT Design Seminar confirmed for 2017
July 19th, 2017
Electronics Weekly is taking advantage of the momentum gathering around IoT, as they follow on from the huge success of their previous IoT Design events, confirming a new IoT Design Seminar for the 6th December 2017.
The seminar will be situated at the Grosvenor House Hotel, Park Lane and is being held on the same day as the prestigious Elektra awards. With previous events finding it hard to gain momentum in the UK, it is good to see that Electronics Weekly are taking advantage of this, and are offering new packages and options to help delegates, sponsors and partners to attend both events on the same day, ensuring they make the most of their time in London.
Electronics Weekly are working hard to ensure they bring value for money, offering packages that allow you to attend both events, as well as including elements which go beyond the day itself by reaching target audiences from a marketing and lead generation perspective across all media platforms before, during and after the events.
This seminar is also taking one step further, offering a new additional sponsored option called 'Technical Spotlight' where professionals can present commercial offers to the audience. However, be sure to get in quick, as these slots will be given on a first come first served basis.
With previous successful events hosted by Electronics Weekly, attendees can be assured that this will be a high-quality event which shouldn't be missed.
But there is no need to worry if you can't make the seminar, as a supplement will be printed and posted online about IoT Design before the seminar, meaning companies can still have a advertisement and a page of content present in front of the audience.
To find out more about this event, please take a look at the website or call +44 (0)20 8253 8652 for more information.
Electronics Weekly Cuts Frequency and Appoints New Editor
July 3rd, 2017
It's not a surprise, but it's still a disappointment that Electronics Weekly today announced that the print (and digital) magazine will be published on a fortnightly, rather than weekly basis, with the change coming in with immediate effect. The publication started sounding out opinion about this idea earlier in the year, and has taken the decision to "ensure the magazine's long-term future".
Electronics Weekly will now be published 22 times per year, instead of the 40 issues per year previously. We are promised that although frequency is dropping, there will be an investment in quality, with a commitment to a minimum pagination of 32pp for each issue. Higher-quality paper was also introduced as of the 28 June issue, giving the magazine a thicker (and hopefully more successful) feel.
We're promised that there will be no change to the digital or events portfolio, nor will the title change from its news-led approach to editorial content, although presumably there will be more analysis and less breaking news, reflecting the fortnightly frequency.
EW also announced that popular and long-serving editor, Richard Wilson, is to step down from the role of editor of the magazine as of 14 July and will take on a consultant editor role. Again this is not a total surprise, and we wish Richard the best in his future role. After many years of working with him, and previously pitching to him (and to be honest being rather intimidated by him in the early years) I will miss the frequent interaction with such a knowledgeable journalist. We're promised a regular column from Richard, as well as his input into the publication, so he will still be around, hopefully for many years to come.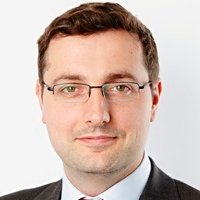 Josh Brooks, who has been publisher of Electronics Weekly for the past two years, is to move into a combined publisher and editor role. This isn't quite as strange a move as it might seem: Josh has worked as a journalist and editor for several publications across industries including packaging, commercial printing, property, construction, urban planning and marketing. So he brings a wealth of experience, and I know he also has a huge enthusiasm to learn more about the electronics industry.
Josh told us, "I am greatly looking forward to the new challenge of editing Electronics Weekly. It is a title with a fantastic team, a strong brand and a wonderful heritage. Moreover, it operates in a market that is at the forefront of human endeavour and I am very excited to have the opportunity to cover that market and meet the people driving it forwards.
"Richard will be a very hard act to follow and I am thrilled that he will remain part of the team in his new role. Both I and Metropolis are extremely grateful for his many years of service to Electronics Weekly; and we look forward to working with him in the months and years to come. Equally, I am very much looking forward to working more closely with the fantastic journalists on Electronics Weekly's editorial team. It's a privilege to work with such highly-respected writers as Steve Bush, David Manners and Alun Williams, not to mention our many contributors."
The rest of the editorial team – web editor Alun Williams, technology editor Steve Bush, senior components editor David Manners and production editor Sue Proud – remain in place and are not affected by the change, which is good news, as it means Josh has a strong team who will be able to drive the magazine forward during this change. All of us at Napier wish Richard and the EW team the very best and look forward to the title remaining at the heart of the UK electronics market.
Electronics Weekly Present Real World Insights for A Virtual Universe
May 30th, 2017
A few times a year at Napier we host a lunch for our client's, and on the 25th April, we invited Electronics Weekly along to show us their presentation on Real World Insights for a Virtual Universe.
The presentation was a great success and was very educational, giving us an insight into how, where and what we should spend our budget on, to ensure we succeed in targeting our consumers in the digital world.
Electronics Weekly revealed they have been tracking and analysing online performance in detail for nearly 2 years to establish any consistent patterns consumers take, and to provide guidance in how to succeed online.
The presentation disclosed a mixture of findings, but a key discovery is the growth of performance on mobile phones which is perceived as exceptional, as both mobile consumption and delivery has increased, resulting in companies seeing more website visitors through the mobile. Mobile actions have also increased, with many consumer's researching or buying products through their mobile.
Following on from this, Electronics Weekly revealed that CTR are improving and during the so called 'quiet months' there is no change or apparent decline in CTR, meaning there is no real seasonality of CTR, as this is advertising lead, not marketing lead.
This apparent increasing popularity of the 'Digital Universe' now means competition is fiercer than ever, and companies must ensure they stay dynamic and evolved, by using creative ideas on integrated platforms, to help stay in touch with their consumers.
Before Electronics Weekly left, they gave us a few more pieces of advice when it comes to approaching the 'Digital Universe':
Set expectations at an achievable and Realistic level
Creative is more important than ever
Resist Temptation- Don't overload the user and cram all products into one email
Use each platform for its main merits and use appropriate/creative messages
Be Bold – Test and Innovate
Congratulations to our clients named on the Elektra Awards shortlist
September 9th, 2016
Here at Napier, we are thrilled that several of our clients have been shortlisted for Elektra Awards. As the industry's largest technology and business awards, we relish the opportunity this event provides for our clients, highlighting the success stories and business achievements our clients have achieved this year.
Our shortlisted clients include Microchip Technology, for their MBLAB Xpress IDE tool, and Vicor, for their Power System Designer tool, who were both shortlisted for the Design Tools and Development software award. Anritsu have also been shortlisted for their product MS2710XA Remote spectrum monitor, for the Test Product of the Year Award, and Premier Farnell have been shortlisted for the Educational Support award. Excitingly, Imagination Technologies have also been shortlisted for the Internet- of-Things product innovation award, for their Creator Ci40 development kit.
The fourteenth annual Elektra Awards will be held on Thursday 1 December 2016, at the Grosvenor House Hotel. The Elektra European Electronics Industry Awards have been established as the best promotional platform to celebrate the achievements of individuals and companies throughout our industry, across the entirety of Europe. This year sees a varied of experts on the panel of judges, from lead technologist of InnovateUK, Andy Sellars, to technical editor of Electronics Weekly, Steve Bush.
We wish all our clients the best of luck and this award ceremony is a great way to celebrate all the successes that have been achieved this year.
Electronics Weekly mulls round table discussions for client campaigns
July 11th, 2016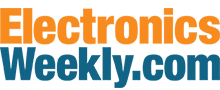 Although the idea is not a new one, it's great to see a publisher like Electronics Weekly look at new ways to generate valuable content that will also help drive the revenue they need to remain a successful business. They have floated the idea of  "Peer Panels": round tables that gather 4-6 key figures from within the industry (this would be business leaders, engineers, senior management, high profile people, specialists and so on) plus a representative from the client to discuss key issues around a selection of key topics.
Set questions will be asked of each panelist, with their answers forming the content.  It seems that initially the discussions will be conducted by email, which makes the idea one that could get off the ground quickly and easily, although Electronics Weekly has also suggested physical meetings and even large virtual round tables via webinars.
It's an interesting idea, and one that has been very successful in the IT industry, for example. Typically they generate great engaging content, and the answers can be re-used in a range of different media channels. Although there is no public pricing, we're sure that there will soon be some clients experimenting with the format to see how they can benefit.
The Electronics Weekly Guide to Email Marketing
May 24th, 2016
Reading media information can get boring. They often feel like a collection of rate card pricing and circulation information, with pretty much the same options as every other magazine. Electronics Weekly, however, has done something different.
Rather than just trying to sell their products, the new Electronics Weekly email media pack actually helps you create better campaigns. Using the results of research the publication has conducted, together with useful hints and tips, more than half of this interesting document is about how you can make your campaigns deliver better results. With hints and tips; analysis of the best (and worst) performing campaigns run by Electronics Weekly's customers; and a guide to email sender reputation, this document is packed full of useful information.
Although we're sure you will want to download the full email media pack with pricing, Electronics Weekly has allowed Napier to produce a special version that is simply their guide to running the best possible email campaigns. Download your copy of the Electronics Weekly Guide to Email Marketing today.
Electronics Weekly to hold Secure Systems Summit in December
May 23rd, 2016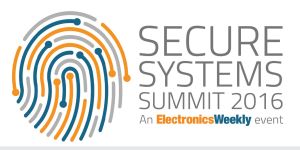 Electronics Weekly will hold their first Secure Systems Summit in December 2016 at CodeNode in London's Tech City. Following on from their IoT event a couple of months earlier, it's clear that the publication is growing an impressive events business.
The event will feature specialists in chip level design, trusted computing, embedded software and app development, who will present security techniques including:
Authentication
FPGA secure-boot
TrustZone
Partitioning
Hypervisors
Biometrics
Encrypted communications
Elektra Awards 2016 open for entries
April 29th, 2016

The Elektra Awards, which are now in their 14th year are now open for entries. There are a total of 24 awards up for grabs, which are split into the following four categories:
Business Awards
Excellence in Design
Engineers of the Future
Product Technologies
Entries will be assess by an independent panel of judges and the winners will be announced at the Awards Ceremony which will take place on Thursday 1 December 2016 at the Grosvenor House Hotel, Park Lane.
Electronics Weekly to Hold IoT Conference in September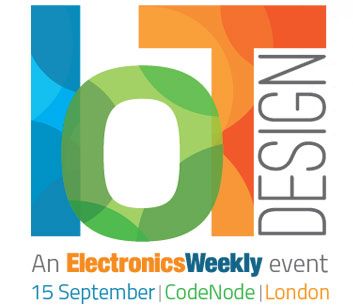 April 20th, 2016
Electronics Weekly will hold its second annual IoT conference on 15th September 2016 at Code Node in London. The event theme is Making IoT work for us.
The conference will focus on the following themes:
Low power wireless standards such as LTE-M, 802.11x Wi-Fi, Bluetooth, ZigBee, LoRa , Thread, NFC.
Temperature, pressure, humidity, acceleration sensors for monitoring and controlling factories, homes, wearable devices and cars.
Secure system design with authentication, partitioning and secure boot technology in hardware, software and connectivity protocols to protect data.
Cloud services for the development of IoT hardware platforms which are functional, secure and easy to use.
There are still speaking slots available: Contact Richard Wilson, editor Electronics Weekly, if you have an idea for a paper to be presented. Alternatively you can take a stand at the exhibition.
The headline sponsor is Keysight Technologies, with Greenhills taking one of the three main sponsor slots: the other two main sponsors are still to be confirmed.
Electronics Weekly returns to the news
December 16th, 2013
I was never convinced by the argument that "no one reads the news in print any more". Whilst it's clear that consumption of news has moved online, there has always been a group of readers who prefer their news in print. It's also clear that whilst the days of cutting and pasting press releases into a print title are over, in practice readers see this as an evolution, not a dramatic change: this is borne out by the fact that the "news" magazines who tried to reposition themselves as "news analysis" publications haven't been particularly successful. Intelligent comment and analysis didn't mean that these titles were no longer covering news.
So I was pleased to hear from Steve Ray, publisher of Electronics Weekly, that the redesign planned for the start of next year will see a greater focus on news. In a way it's going back to EW's roots. I, for one, really like the new look and hope that EW will continue to be required reading for anyone in the UK electronic components industry.
Elektra Awards 2013 open for entries
May 25th, 2013

The 11th annual Elektra Awards are open for entries.
The deadline for submissions is Friday 28th June 2013 at 5.00pm: despite the tradition of an "Elektra extension", there is no guarantee that late submissions will be extended.
Changes at Electronics Weekly
April 29th, 2013
As Electronics Weekly continues to settle in to their new home at Metropolis, there have been some changes behind the scenes. Publisher David Bentley has left the company, whilst Steven Ray has joined as Commercial Manager and Emma Mayhew has taken over as Publisher.
How to develop a great home page – the Electronics Weekly way
July 30th, 2012
Electronics Weekly has been tweaking its home page for a while and we're liking the new look and feel. But how did they decide on what changes to make? Electronics Weekly kindly told us the five main areas that they tried to improve, based upon user comments:
"Homepage too full and busy, needs to be clearer"
"Too many items on the Navigation Bar"
"The quality of search on Electronics Weekly"
"A greater visibility of Social Media links"
"Too many adverts"
Of course publishers are limited in what they can do to address users' concerns: for example Electronics Weekly was quick to point out that adverts are a crucial element of the site, as they pay the wages! However they have refined the number and placement of advertisements on the homepage: I'll be interested to see how the new layout is viewed by the readers, and whether it has any impact on advertising click-through rates.
It was fascinating to hear what drove the EW redesign, and I'd love to hear similar stories from other publishers.
Elektra Awards 2012 deadline extended
July 10th, 2012
It's as predictable as summer rain in England: the deadline for the Elektra Awards 2012 has been extended. You now have until 6th August 2012 to complete your entries.
Electronics Weekly sold to Metropolis
June 20th, 2012
Reed Business Information has sold Electronics Weekly to Metropolis, a publisher with a portfolio of consumer, trade and travel titles. As RBI has made no secret of its desire to move away from traditional magazine publishing to paid content and online subscription-based data sales, the fact that a sale has been made is a good thing for the magazine and its team.
It will be interesting to see how Electronics Weekly develops under new ownership. I'm sure that other than the commute to work changing to arrive in Croydon, Electronics Weekly will continue with few changes early in the relationship. In the longer term, I'll be fascinated to see how the new owners develop EW – will the try to reinvigorate the print edition? What can they learn from EW to enhance their existing portfolio of titles?
The sale of EW was inevitable, and it is great to see that there is a publisher who recognised the value of the title. I'm looking forward to seeing what the new owners can do to make EW even better in the future.
Electronics Weekly launches "Noticeboard"
May 25th, 2012
Electronics Weekly has just announced their "Noticeboard" – a news feed that allows companies to post their news direct to the Electronics Weekly website, providing they pay for the privilege. I suspect there will be pretty polarised views on this move: people might see it as a great opportunity for advertorial, a new source of content for the site, a disappointing move that devalues the real editorial on the website or a stream of advertising spam.
I'd expect most companies to sign up for the service to benefit from Electronics Weekly's SEO and some promotion on the site and within emails. The value, however, will be pretty dependent upon the noise in the newsfeed: ironically the less successful the noticeboard, and therefore fewer posts it receives, the better the value to anyone paying for the service. it could only take a couple of companies posting high volumes of content to drown out those posting only a small number of items a month. In fact it's even worse than this: with the reverse chronological ordering and only two stories on the home page promotion, it just takes two other users to post immediately after you add some content for the benefit of home page promotion to vanish from the package for that item.
I was very disappointed that on the news page Electronics Weekly has chosen not to reveal that the content is all paid-for. Letting people think it's a valid editorial news feed simply devalues the high-quality editorial on the rest of the page. The Supplier Ecosystem page also doesn't highlight that fact that these stories are effectively advertising, but I guess that as this is a paid-for page anyway I shouldn't get too upset. At least I can take comfort in the fact that they do highlight the Noticeboard as "Sponsored Content" on the home page.
Is the Noticeboard a good idea? Perhaps. You get distribution of content, and this clearly has a value, although it will depend upon the traffic that is delivered to your posts. Whether it's a good idea for Electronics Weekly to hand over more of the site to advertisers, allowing at the same time the line between editorial and advertising to become a little more blurred, I'm less sure. I want publishers to make money – it's the only way to ensure a vibrant European media – but at the same time this feels like a decision that prioritises short-term revenue over long-term value to the reader.
All About Test adds Product Focus to site
January 25th, 2012
One of the downsides of online publications is that they tend to focus on a stream of news, failing to provide the context you might get in an in-depth print article. Electronics Weekly is a good example of a site that has produced some excellent overview pages – such as their guide to LEDs, and I was delighted to see that All About Test has begun to do something similar for the test market. The first product focus looks at power analysers, and is also available on the German site.
Publisher Interview – David Wilson, Electronics Weekly
July 25th, 2011
David Wilson has recently taken over as the publisher of Electronics Weekly, and I was delighted to get the opportunity to talk to him about the state of the electronics publishing industry and his plans for the future. In this interview he defends the refusal of Electronics Weekly to provide PR coverage based on advertising spend, explains that Embedded Live was delayed to give EW time to build a great show next year and drops hints that EW is working on an iPad app:
You've worked at Electronics Weekly before – what's it like to be back?
It's great to be back working with Richard Wilson, and the team. I've kept an eye on the brand over the last few years so it feels as though I've never been away!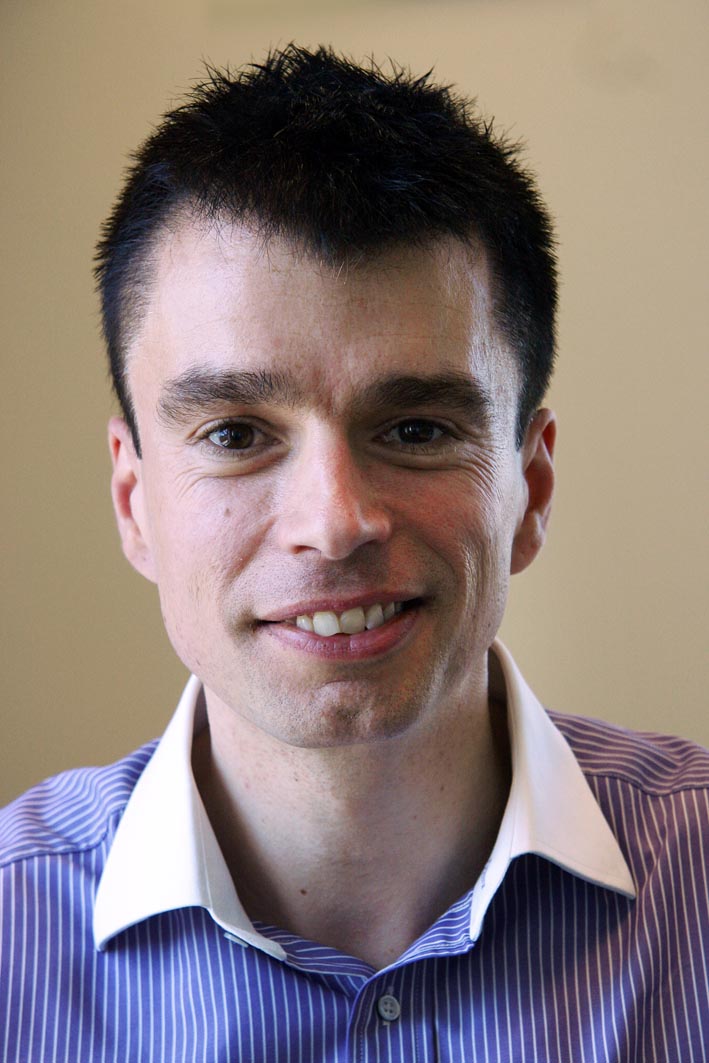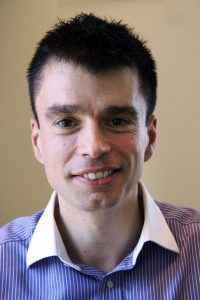 In your current role you are the publisher of New Scientist and Electronics Weekly – how does your job differ between the two titles?
Fortunately both brands have 50+ year heritage and very loyal readers/users. New Scientist is a consumer brand whereas Electronics Weekly is the bible of one market. The job is very similar but with different objectives.
New Scientist gets significant revenue from subscriptions and newsstand sales, whereas Electronics Weekly is a controlled circulation title. What impact does this have on your role?
The key difference is the commercial strategy- Two thirds of New Scientist revenues come from users and this creates a different set of challenges.
With advertisers effectively paying the salary of editors working on a controlled circulation title, does this mean that editors can't be completely independent?
No..I can't speak for all CC titles but EW has always prided itself on it's impartial and considered view of the marketplace .Independence and trust are the key reasons our readers give for reading EW. I see no difference in the approach of the EW editors to that of New Scientist.
Does Electronics Weekly consciously aim to give more editorial coverage to advertisers than non-advertisers?
No-our commercial and editorial strategy are not aligned in this way.
What is your view of companies that don't advertise, but expect their PR to be covered?
Electronics is a competitive market and companies have a number of choices when it comes to advertising. I'm pleased that companies supply their PR as this demonstrates that they understand the strength of our audience-.I just feel sorry that they're missing out on all the sales leads we could be supply them!
Clearly you believe print has a future, and keep investing in the print version of Electronics Weekly. Do you ever see the day when there will be no print magazine?
We are currently investing in the print magazine and the quality of the audience it reaches for advertisers. I can see a day when there is no magazine but only when the appetite for print has diminished.
Digital versions of the Electronics Weekly have the same layout as the print version. Do you think that this is a barrier to getting more people to read the digital title?
It is important to offer both options to provide choice to the reader. Moving forward, we have plans to extend the digital content beyond the magazine using video and graphics.
Do you think it will make sense to have a "tablet format" version of the magazine in the future?
Absolutely-watch this space.
Electronics Weekly has taken over Embedded Live (ESC UK). You chose to postpone the event this year. Why did you think Embedded Live would be more successful in 2012 if there wasn't a show in 2011?
My team are working with UBM to deliver the best possible experience for visitors and exhibitors. Unfortunately we didn't have the lead time this year and we weren't prepared to sacrifice the quality of the show.
You've got a significant amount of video content on the website, but it's not heavily promoted on the home page. In the future, how important do you think video content will be to Electronics Weekly?
Video will be a key part of our online content strategy. We are working on plans for a new platform with additional content at present.
What would you expect to be the most important trend in the European electronics publishing in the next couple of years?
The expansion of digital content.
What do you like to do in your spare time?
I'm a huge sports fan and my wife has just had our first baby……if I'm not asleep you'll find me at a Leeds united game or England test match.
What is your favorite gadget?
The Ipad as it's made my life so much easier. What other gadget has a app to time your wife's contractions whilst your watching the test match in the delivery suite?
Elektra Awards 2013 deadline extended
July 4th, 2011
Continuing the well-established tradition, Electronics Weekly has extended the deadline for entering the Elektra Awards to 15th July. These awards have real value, so if you missed the original deadline, make sure you get your entry submitted within the next couple of weeks!
Embedded Live postponed until 2012
April 21st, 2011
After some very promising announcements, and signs that UK events are picking up with some pretty good attendance at NEW, I was really disappointed to hear confirmation that Electronics Weekly has decided not to run Embedded Live this year. With the transfer of the event to be under EW's control, the tie-up with ICC media and promises of government support, it sounded as if Embedded Live was on the growth track this year. I understand, however, that the recent restructure of the management after the sale of Computer Weekly has resulted in the review that has resulted in the decision to wait until next year.
Is this good or bad news? On the downside it's not going to help the already-shaky confidence of potential exhibitors, but in reality the show hasn't attracted huge numbers of visitors over the last couple of years, so skipping 2011 is not going to disappoint too many engineers who attended previous events. So overall I don't think that this decision will make it harder for the event to be successful in 2012. However by deciding to hold off for a year to make sure "it's done right", EW has really put the pressure on for 2012: a good show will surely be a cause for celebration, but if visitor numbers are disappointing then I can't see any future for this troubled event.
Vote to decide an Elektra Awards winner
April 16th, 2011
Ever entered an award and been completely bemused by the judges' decision to name another company as the winner? Well here's your chance to dust off your Simon Cowell attitude and help select a winner for one of the Elektra Award categories. The product innovation award is decided by votes from readers of EW, and you can have your say by voting for your favourite innovation.
Electronics Weekly takes over Embedded Live
March 9th, 2011
One interesting bit of news from Embedded World was that the UK show, Embedded Live, will now be run solely by Electronics Weekly. Previously it had been a joint venture between EW and EE Times Group.
This is an interesting move. Having offloaded the majority of its European electronics publishing activity, EE Times Group could only make a limited contribution to promoting the event. Electronics Weekly, with its very strong focus on the UK should be more committed to making the event successful. The challenge of getting engineers to attend shows in the UK, however, is a well documented problem. With limited momentum, even EW will have their work cut out to make this event a true success in 2011.
So what should we expect? If the event can show significant growth in visitors and attract more than 2500 attendees, I'd feel confident that there is momentum that will drive the show forward. I'd love there to be a stronger show culture in the UK, so let's hope EW can pull it off.
How do I get website traffic figures I can trust?
October 31st, 2010
This month I've had several different conversations about website traffic stats with publishers. One publisher described their frustration at another who had included the traffic for a book publishing division within their stats. Another asked how they could get people to recognise the large volume of traffic that their site generated, and claimed they were the leading electronics site in their country but still failed to get on the radar of many large advertisers. A third complained that they were the only site in their country to audit traffic, meaning that it was difficult to compare stats on a like-for-like basis with their competitors.
Clearly this is a debate that doesn't have an easy answer. Let's have a look at one of the claims that has been made recently – that Radio-Electronics.com is a bigger site that ElectronicsWeekly.com on the basis of the DoubleClick Ad Planner. As always I have a few thoughts on the matter:
Firstly it's astounding that Radio-Electronics can make this claim with some credibility. I'm truely impressed at the traffic the site generates, and with this performance it clearly should be on many more ad schedules than it is today.
The claim is made based upon Google's DoubleClick Ad Planner tool. This means the figures are an estimate. Ad Planner makes it sound like a clever calculation, but their statement that "Traffic statistics are estimated by combining sample user data from various Google products and services and opt-in direct-measured site-centric data. In addition, site owners may opt-in direct measured Google Analytics traffic statistics to provide a more accurate measure of their site traffic." means that it's not accurate.
Radio-Electronics gives Ad Planner access to the site's Google Analytics data. ElectronicsWeekly.com does use Google analytics, but doesn't give Ad Planner access. So comparing the data means comparing estimates produced using two different algorithms.
ElectronicsWeekly.com has quite a lot of other analytics on the site, and uses WebSideStory code (owned by Omniture, which is owned by Adobe), Nielsen//NetRatings and Trovus.
The Ad Planner stats show Radio-electronics with 120K unique visitors and 340K page views per month as compared with 91K and 320K for Electronics Weekly. This is pretty close for an estimate.
Alexa, another source of estimated site traffic shows a different story, with ElectronicsWeekly.com significantly ahead of Radio-Electronics, apart from a short time at the beginning of October.
ElectronicsWeekly.com is audited by the BPA. This should provide the most accurate and unbiased traffic data, and it shows the site achieving 337K pages and 121K unique browsers [users] in June, which is the last month on the most recent audit. It's not unreasonable to assume that traffic has increased a bit since June.
So what does this all mean? Which site is bigger? Which site is best?
I guess that the first conclusion you can draw is that Radio-electronics.com really is a big site. We all knew that ElectronicsWeekly was generating strong traffic, and clearly Radio-electronics is very much in the same league. We can also say that you can't directly compare the traffic on the two sites – there simply isn't a direct comparison that is not based upon an estimate for one or both sites. In fact the only "apples for apples" comparison in all the above data are the Alexa numbers, and these are notoriously approximate. Finally we can say that you probably need to be running a pretty large campaign, or have very specific targeting before you need to worry about which site is bigger – with unique visitors of the order of 100K for both sites, you need to be running a lot of ad impressions before you need to start worrying too much about the site's reach. Despite the many problems in getting traffic stats, I think I can confidently say that Radio-Electronics.com and ElectronicsWeekly.com are the two biggest electronics sites based in the UK (I think electronicstalk.com doesn't match their traffic, but getting data on this site's traffic is even more difficult!).
Alexa Comparison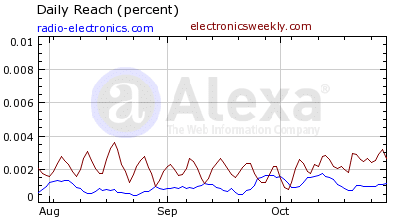 6 reasons why great editorial is more important than SEO
October 30th, 2010
I was struck by this weeks list of the top 10 stories from Electronics Weekly. Of the 10 most popular stories, six were from the Mannerisms blog. One was the pictures of the first issue of EW, there were a couple of news stories and the 10th most popular was the story naming the new MacBook Air "gadget of the week".
Electronics Weekly has a great editorial team, who all generate high-quality, unique stories, but most of their journalists are providing "newsfeed" content. Conventional wisdom says that the more news stories you generate, the better chance you have popping up as a result of a Google search, and therefore the more traffic you will get. But the EW stats suggest it's not that simple. Not all of David Manner's posts are related to news – in fact the saga of Ed the serial CEO is fiction. Could it be that readers are regularly visiting EW to get their favourite content because they find it so valuable? OK, the gadget of the week is clearly something that should get good traffic from Google, but the other stories aren't so likely to drive much search engine traffic. So we can probably assume readers are visiting these stories directly, or from links on other pages of the site. Readers choosing to visit a specific site because they love the quality of the journalism, rather than just going to the first result returned from a Google search? If this means journalists focus on great writing rather than becoming SEO experts, we're all going to benefit.
Electronics Weekly front covers through the years
September 19th, 2010
As part of their 50th anniversary celebrations, Electronics Weekly has published images showing how the front cover has changed over the years (sorry page has been removed). It's not only interesting to see how the publication has moved from a newspaper format to more of a magazine layout, but it's also scary to realise how many of the front covers I can remember!
50 years of Electronics Weekly
July 29th, 2010
I really enjoyed looking through the images of the first issue of Electronics Weekly. The pages have just been posted as part of EW's 50th anniversary celebrations. It's interesting to see how the publication has changed over the years. The adverts are also fascinating: the first issue proves that "the missing ingredient" is a tag line that has stood the test of time, although one advert included a image of punched tape – not something that would shout "leading edge" today!
Elektra awards entry deadline extended
June 30th, 2010
Tradition is important in Europe, so it's nice to see the Elektra Awards extend the entry deadline again. Entries are now due by 23rd July 2010.
Electronics Weekly smartens up
June 24th, 2010
The design of Electronics Weekly has been updated to a "cleaner and more modern" look. Interestingly one of the changes is to reduce the number of stories highlighted on the front page – presumably to encourage more people to read through the magazine in a linear fashion.
EW jobs go social
April 26th, 2010
I remember the old days when publications could rely on recruitment to generate pages of print advertising. With the move to online recruitment, this is no longer true, but it's good to see that some publications are still innovating to try to keep hold of as big a share of the recruitment spend as possible.
Electronics weekly has just updated its jobs site, with the aim of making it easier to find jobs that better match your interests. In addition to related jobs, the site will also use behaviour of other site users to recommend possible roles ("People who applied for this job, also applied for…").
Call for papers: Embedded Live
April 12th, 2010
Electronics Weekly and EE Times Group, the organisers of Embedded Live, have issued a call for papers. The conference and exhibition will take place at Earls Court, London, on 20th to 21st October 2010, and they hope to run more than 40 classes in 50-minute, 90-minute, 2.5-hour, or full day formats.
Abstracts are use by 7th May, and information on how to submit is available on the Embedded Live website.
UK show gets a name
February 24th, 2010
In December Electronics Weekly and EE Times Group announced they would partner on a UK show in 2010, and that show has finally got a name: Embedded Live. In our industry it's nice to get a simple name that is real words and not an abbreviation. Although the UK is probably the toughest market in Europe for trade shows, I really hope that the combination of EW and EE Times group will be strong enough to make this event a success.
TRaC blog launches on ElectronicsWeekly.com
February 9th, 2010
I'm delighted to see that Electronics Weekly has launched a blog about test and certification that is written by our client TRaC. The engineers at TRaC have superb knowledge about this subject, which is not surprising considering they are the leading UK test and certification company. They've been supplying posts to EW for some time, so the blog already has some fascinating posts.
Elektra Awards 2009
December 2nd, 2009
Thanks to all at Electronics Weekly for putting on such a good show last night for the annual Elektra Awards. We had several clients shortlisted, with Microchip walking away with the Semiconductor Product of the Year – Digital award. Many congratulations to Microchip and all our clients who were shortlisted.
Electronics Weekly and UBM to partner for ESC2010
December 2nd, 2009
At last night's Elektra Awards, Paul Briggs, Group Publisher for Reed Technology Group, announced that Electronics Weekly and UBM are to form a strategic partnership for the Embedded Systems Conference and Exhibition, to be held on October 20-21st 2010 at Earls Court. A couple of months ago this partnership would have been almost unthinkable, but with the sale of EE Times, it seems almost anything is possible.
Of course it is good news that there will be two major companies behind the event next year, and I really hope it works. It does, however, need some radical thinking. Neither company generated large attendances at events this year, and more worryingly they didn't appear to be able to attract big name exhibitors who must sign up early to encourage smaller exhibitors and visitors to attend.
The move will presumably see National Electronics Week refocus on its core electronics manufacturing sector, which may even increase the quality of the visitors, although they will have to work had to secure strong support from the media.
Overall it's a good thing that we have commitment to ESC2010, but if it is to be a success the organisers need to think radically. Today exhibition success is not about achieving a particular revenue per square meter of booth space. It's all about getting big-name companies who will not only attract visitors, but also proactively market the event to their databases, and provide compelling reasons to attend, such as running classes on the show floor. I hope that EW and UBM can see the benefit of this, and are able to announce commitments to exhibit from several major manufacturers.
Map mashup from Electronics Weekly
July 6th, 2009
I liked this idea from Electronics Weekly. A simple mashup of R&D locations in the UK that are taken from press releases with Google Maps gives you a great view of where research and development activity is happening in the UK.
Electronics Weekly offering pay-per-lead
June 19th, 2009
And then there were three… Elektroniknet and Elektronik Praxis both offer pay-per-lead campaigns and now Electronics Weekly has joined in, offering to supply a stream of qualified leads at a fixed cost per lead. The level of qualification and the cost varies hugely – there is roughly a 30 to 1 ratio between the most expensive and cheapest options, so you need to be careful that you are picking the option that delivers the best value leads for your needs.
Pay-per-lead is an approach we've used with several IT clients, and it was pretty inevitable that publishers in our sector would follow. But the approach has pitfalls for electronic component vendors.
When we work with IT clients, they often have systems with an entry level cost of several tens of thousands of dollars, and the difference between a small and large client might only be a factor of ten.
Many of our electronics component clients have products that sell for a couple of dollars or less, and the difference between small volume (e.g. a proof of concept) and high volume can be a factor of 100,000 or more. Setting the qualification questions is therefore more important, but can also be much more challenging.
If you're interested in pay-per-lead, and would like to talk to an agency that has run these campaigns, why not send me an email?
Elektra awards deadline extended
June 17th, 2009
It's good to see that some great traditions survive. Although I'm desperately hoping for Andy Murray to make it in to the second week of Wimbledon, and that it doesn't rain during the tournament, some traditions do make you smile. As with previous years, the deadline for the Elektra Awards has been extended – you now have until 3rd July to submit your entry.
Why do companies go to shows?
April 21st, 2009
Clearly electronics companies don't go to trade shows to exhibit. I've just been sent an update from Electronics Weekly about their 3-day design conference taking place at Electronics Weekly Live (which itself is part of National Electronics Week) in June. There are 21 companies speaking. In fact 21 really good companies speaking at the event. It's an impressive list, and would definitely encourage me to attend. So I checked out the exhibitor list, naively thinking it must be impressive. Sadly of the 21 companies speaking only four were listed as exhibitors.
This doesn't make sense to me. I can't believe the exhibitor list is that out of date. Why do so many companies invest the time to speak, but not exhibit. They must value the quality of the visitors to put in the time to write and present a paper. If this approach continues, we're going to see a "tragedy of the exhibitions" where visitors don't turn up to the event because of the small roster of exhibitors, leaving a great seminar schedule poorly attended. Personally I still think that trade shows can be great lead generation tools, so I hope that this gloomy vision doesn't happen.
The changing look of electronicsweekly.com
April 17th, 2009
Electronics Weekly has just updated the look and feel of their website, and so I thought it would be a nice idea to use the wonders of the wayback machine to have a look at how the site has changed over the years. I accept that the wayback machine is limited, presenting pages without most of the graphics, but it does give an idea of how the look and feel of the site has changed over the years.
I like the clear and somehow less cluttered layout of the new site, although it is interesting to see that the various channels have been organised into categories (design, components, etc) and have been given less prominance than in recent versions of the site. Also the slightly wider layout probably isn't going to win any fans in the world of netbooks, but I would expect that most users would have displays that are more than capable of showing the entire page width.
Do readers want interaction?
April 14th, 2009
An interesting experiment is going on at Electronics Weekly, where they've tried using polls to generate more interaction with the readers of their blogs. The questionn"what is your favourite blog" only attracted 5 responses in two weeks for Electro-Ramblings, whereas the question "what will succeed silicon" had attracted an impressive 91 responses for Mannerisms at the time of writing this post.
From my point of view it seems pretty clear that engineers are very happy to provide their opinions on technical issues, but are less interested in the more self-serving "what do you like about our site" questions. Whatever the case, if David Manners can continue to generate such good response to polls, the results could become news stories.
Distribution World becomes a blog
March 30th, 2009
Electronics Weekly has relaunched distribution world as a blog. I'm really pleased to see that Richard Wilson is not only creating great content, but that he has made distribution world distinctly different to Mick Eliott's EPN distribution blog.
It will be interesting to see what happens to Distribution World when the market turns up again – presumably if there is sufficient advertising revenue it will make sense to relaunch a print, or more likely digital, magazine. Whilst I'm waiting, I'll be amusing myself reading the archives: EW has reused the old parallel processing blog which means that posts about transputer chips being available on eBay are currently still in the distribution blog archives!
Electronics Weekly Live blog
March 15th, 2009
Using a blog to promote an event makes a lot of sense: all the new sponsors and attractions can get their 15 minutes of fame. Electronics Weekly has a great example of how to promote an event through a blog, and have also been Twittering about EW Live. Now all we need is the Facebook page….
Electronics Weekly launches Open Source Blog
February 5th, 2009
After a few months when the EW blog activity was fairly quiet (excluding, of course, the unmissable and never quiet Mannerisms by David Manners!), they've gone blog crazy! Hot on the heels of news about the LED and Startup blogs, EW has announced the Open Source Engineering blog, which will be written by Richard Danter, Mark Day and Hans Juergen Rauscher, all of whom work for Wind River. The blog has already been primed with a number of posts, and with the in-depth knowledge of these three contributors, this should be an important source of information for anyone working with Linux in an embedded environment.
EW finds startup blogger
February 4th, 2009
Stephen Graham, co-founder of the 2008 Elektra Start-up of the Year, Air Semiconductor, is the new blogger for Electronics Weekly's Technology Startup blog. It will be interesting to see what happens, as EW has re-branded the blog "On Air – Views from a UK Technology Startup", and it's clear that the blog will be used to talk about Air in some detail – a noticeable change in direction from the original startup blog. I guess if someone is going to give their time and the content is good, we shouldn't complain about the blog also being used for promotional purposes.
EW Twitters news
January 31st, 2009
After flirting with Twitter a year ago, Electronics Weekly has decided that the online stream of consciousness is going to stick around and has launched an electronics news twitter feed.
EW Twitters
January 29th, 2009
I guess I should admit that I've never really been a fan of Twitter – so much dull and banal information that I found it boring. I do follow a couple of people on the service, but have always wondered whether it really had value. Until now! Richard Wilson has started twittering calls for copy and information about the progress of Electronics Weekly stories. Absolutely brilliant!
Electronics Weekly launches monthly competition
January 14th, 2009
I'm impressed with the great job Electronics Weekly does of coming up with new ideas for the website, even if I don't like all of these innovations. The latest idea, a monthly competition based on missing components in circuit schematics, is – in my opinion – fabulous. Kudos to DigiKey as well for providing the prize (and at only £50 per month this is wonderful value for them).
Electronics Weekly illuminates LEDs with new blog
January 7th, 2009
In the past, I've highlighted the lack of electronics blogs, particularly in Europe. Things are slowly getting better – it was great to see that Electronics Weekly has expanded their roster of blogs with LED Luminaries, a collaborative blog written by a number of industry figures. As the first EW blog with several people posting, it will be interesting to see if this approach works.
Electronics Weekly Blog Awards winner
December 4th, 2008
Congratulations to Pradeep Chakraborty , whose blog has won the EW Blog Award for electronics. Visit the EW website to find the winners of all the categories.
It's great to see EW promoting blogs, which have so far had minimal impact on the European electronics media landscape – as I pointed out previously, most of the blogs are either focussed on hobbyist topics or written by mainstream journalists.
At Napier we work in a variety of B2B technology markets, many of which have a much broader blogging community. I hope that these awards help encourage more people in our sector to blog.
electronica videos from Electronics Weekly
November 28th, 2008
More video content from electronica – Electronics Weekly includes coverage of all the important events at the show, including the lovely Marilyn Monroe on the DigiKey stand.
Electronics Weekly plans EW Live at NEW
November 6th, 2008
Will this be the move that makes National Electronics Week (NEW) a really good show for our industry? Electronics Weekly will host a semiconductor technology conference and exhibition incorporated within National Electronics Week 2009.
The first National Electronics Week was OK, but really was just a revised version of NEPCON, with much of the show's focus on electronics manufacturing. If the EW Live event can pull in presentations from leading semiconductor companies, who then choose to exhibit, and this then pulls in greater visitor numbers, then the show could really take off. Personally I really hope that it happens: UK engineers would benefit from a great show, as would the exhibitors. Unfortunately UK electronics engineers tend to be reluctant to attend shows, but I would certainly wish the organisers of NEW and EW Live the very best of luck.
Circuits. Circuits. Circuits
September 30th, 2008
I really like the approach Electronics Weekly's website takes to repackaging content to add value (isn't this the definition of what it means to be a good editor?). They've just started pulling together circuit ideas and diagrams in the rather obviously-named "Electronics Weekly Circuits Section". Although "in beta", the site is already looking good, taking mostly existing content and presenting a new way to view and navigate that will help ensure readers find useful information on every visit.
Innovation means quality????
September 18th, 2008
I have to confess that I didn't blog this earlier as I wasn't sure whether someone was winding me up… But it's not a joke, Electronics Weekly really has launched "Chips and Beer", a guide to pubs and other places to "get a decent pint". OK, it is innovative, but whether the traffic it delivers to the EW website is going to represent the advertisers' target sudience has to be pretty questionable.
25th Sept – Response from Electronics Weekly
I received this response to the above story from Alun Williams of EW. I think he makes some good points, particularly the way he separates the blogs as being "different". He also points out that EW is trying to innovate and experiment, something I have highlighted in Napier News and definitely support. I've pasted in the full text of his reply.
The main thrust of my reply would be that the blog is about community more than anything else.
It is about an aspect of industry life that has not previously been addressed on the site – being out on the road, on a professional basis. We are hoping that readers who do take an interest in the blog – one of eight blogs on EW, I would emphasise, which cover a range of areas – will find the guide helpful.
The contents of the paper magazine already go online, so we add to the mix with other elements on the website. So, of course, this isn't core material but I do believe it still has a place.
David Manners, the man behind the blog was actually prompted by people within the industry to produce the guide, which is aimed squarely at the semiconductor business – we are hoping to gather recommendations for cities in Asia and off-the-main-tourist-beat US states, for example, rather than Tuscany or Provence.
In theory, readers might be able to research the places themselves on the Web, but I'd emphasise the community aspect – helping industry colleagues having to spend evenings away from home in far flung (potentially unwelcoming, unglamorous) places – how much better to rely on recommendation from industry peers?
On the point about search engines, I can honestly say this is not an SEO gambit to attract traffic. Rather, it's an attempt to further encourage electronic engineers to engage with the site. Just one new string in the EW.com bow. To be honest, we think it may be a slow burner – slowly word will get out, people may use the recommendations, then provide further feedback and then propose better alternatives – electronic engineers talking to electronic engineers. That's not a bad definition of community engagement.
To be honest, by their nature, blogs always evolve – either flourishing or alternatively fading away. We shall see, with this one, too. But we feel on Electronics Weekly we should definitely keep trying and innovating, always addressing – in different ways – needs of the electronics community.
Where are the electronics blogs?
September 15th, 2008
Electronics Weekly has launched their Electronics Blog Awards 08, which we think is a fantastic idea. In many ways the electronics industry has allowed blogging to pass it by. The suggestions made by EW for the shortlist reflects this, with most blogs dedicated to circuit ideas for hobbyists and a couple of blogs from major publishers (ZBNet and TechInsights).
Other tech sectors from networking to gadgets have a much stronger independent media, and it would be great to see a much larger blog community covering our industry. I don't want to discount blogs from large publishers (the always entertaining Mannerisms is always one of the first things I read), but I would love to see a range of different viewpoints like those on blogs by Chris Edwards and Nick Flaherty. If these awards encourage more people to create blogs like these, they will have been a real success.
Call for book reviewers
July 7th, 2008
Times must be tough! ElectronicsWeekly.com is calling for volunteers to review books free of charge (although the reviewers do get to keep the book). Actually I think this is quite a good idea: as well as keeping editorial costs low, there will be some engineers who would love to read the books, and for whom the 300-word review should take little time to complete. We'll keep an eye on the site to see if this approach does attract would-be book reviewers.
New look for Electronics Weekly
June 17th, 2008
Electronics Weekly has relaunched, with a new look, and more importantly a renewed commitment to in-depth editorial. Electronics Weekly believes that news will be predominantly consumed online, and has therefore reduced news coverage in print (although not eliminated it). I'm not sure whether this is a reflection of the electronics industry, or of an internal Reed philosophy.
overall I really liked the new look. It's definitely good that Electronics Weekly hasn't abandoned news coverage in print, and the news analysis section allows more in-depth coverage of key news stories. The products section is also retained, proving that engineers still like browsing product sections to learn about new devices. The layout is very readable, and is an evolution of the successful EW look, rather than a radical re-design. Overall I'm pleased that the successful EW formula is maintained, and expect the change to be well received by readers and advertisers.
Wikipedia and the European electronics Media
May 31st, 2008
It was recently pointed out that the Electronics Weekly website was referenced by several Wikipedia articles, and when we did some digging around we found other electronics sites such as elektroniknet.de also cited by Wikipedia authors.
Sadly the Electronics Weekly editorial team aren't considered famous enough to warrant an article – perhaps that is something that Jane, the Reed employee who has created entries for the Reed Technology titles might want to address!
IET and Electronics Weekly programmable hardware conference
May 19th, 2008
The IET and Electronics Weekly are jointly organising a Programmable Hardware Systems Conference to be held on the 8-9 October 2008 in London. I hope that the event will be a success, and will drive more collaboration between the IET and EW in the future: combining the resources of the UK's professional body and largest-circulation magazine should ensure the success of the event, and may even begin to chip away at the myth that UK engineers don't like attending trade shows!
The two-day event includes the conference, a table-top exhibition and a networking dinner. To find out about speaking opportunities contact Johanna Czako.
Electronics Weekly to launch contextual adverts
May 14th, 2008
I've just seen the demo of the contextual adverts that will be running on electronicsweekly.com, and I have to say I'm rather impressed. OK, so most websites run contextual advertising, because almost everyone is running Google adsense to use up spare inventory. The system from FirstLight, which will be used on the EW website offers something completely different.
I particularly liked the promise of content being scraped automatically from an advertiser's website, which is a great way to ensure the latest content is included in the system. They even promise to filter against "bad" keywords. EW are also realistic enough to understand that this will have to be "overseen" and that manual intervention will be required from time to time.
What are the downsides? I'm a little disappointed that there is still a feel of a walled garden, with all adverts routed to what is effectively a microsite within electronicsweekly.com (although it is then possible to link to the advertiser's own site). Also there is an inevitable issue of "fairness", with distributors with broad ranges of products likely to see a very high number of impressions at a reasonable cost, whereas more niche suppliers will pay the same amount for far fewer – although we do accept that some impressions are more valuable than others. Finally, the idea of an industry directory that consists only of the reletively small number of advertisers – I just don't understand the reasoning behind producing a directory that will be so far from comprehensive that I cannot see a use for it. I just wouldn't include this in any ROI calculation.
Despite the reservations, however, I think this idea will be extremely successful for Electronics Weekly – there are certain groups of advertisers who will clearly obtain great value from the service, and even niche companies may find the ROI acceptable. Furthermore the system will increase the revenue per page view without filling the page with garish, distracting adverts. Let's hope other European electronics websites offer similar services in the near future.
Elekra entry deadline extended
April 25th, 2008
It's become an annual ritual….the deadline for entries to the Elektra Awards has been extended. Entries will be accepted up to 9th May.
Electronics Weekly SAM study
April 2nd, 2008
Electronics Weekly will run another SAM Study (Subscriber Attention Measurement) for the adverts placed in their 16th April edition. I believe that advertisers should take advantage of opportunities to understand the effectiveness of their adverts, and the SAM study gives pretty good feedback on what works and what doesn't. If you want to know more about the studies, the last study from October 07 is available online.
Electronics Weekly shrinks team
February 26th, 2008
Electronics Weekly has shrunk the size of the editorial team, with the departure of News Editor Alex Mayhew-Smith and Melanie Reynolds, Features Editor. This follows the announcement that publisher Mick Elliot was to leave the title. At the same time, the magazine is promising to become a "technical weekly" (with technical articles and news analysis), rather than a newspaper, with articles taken from the US title EDN.
The content should change from next week, and I'm very interested to see how this change is implemented. Whilst I'm sure that readers would ask for more technical content, independant research such as Napier's study at the end of 2007 shows that the internet hasn't replaced print titles. This is true for news as well as for technical material, and moving closer to the content of New Electronics may not prove to be a good idea. I will be monitoring the changes closely, so keep checking Napier News for our latest views!
EW product guides
November 6th, 2007
Electronics Weekly now has an interesting range of technology guides. It's not the first time magazines have tried to produce such guides, but it is an indication of how much unique information is being generated by EW. Arguably the Wikipedia entry on LEDs is more comprehensive, but Electronics Weekly has cleverly linked their technology guides to relevant stories on the site, giving a better view of the latest developments. The way that the guide have been implemented is a step forward from the conventional approach of dividing a magazines site into product/technology categories, and should help attract visitors looking for reference information as well as news.
Shortlist announced for Elektra awards
October 9th, 2007
Reed Electronics Group and Electronics Weekly have announced the shortlist for the Elektra awards 2007. We'd particularly like to congratulate Vicor, who were shortlisted for their innovative online suite of tools, PowerBench.
Further extension of Elektra awards entry deadline
July 26th, 2007
Following on from our earlier story, the Elektra awards have extended their deadline to 3rd August. Still time to get those entries in!
Electronics Weekly introduces Ask Your Market
June 3rd, 2007
Reed Business Insight, Electronics Weekly's market research division, has launched Ask Your Market, which is an omnibus style (i.e. many different companies submitting questions) research survey amongst electronics industry professionals. With a promise of at least 200 respondents, and a cost of £500 per question, this may be an interesting route to gain market knowledge. We are, however, disappointed that Reed are not giving a commitment as to the profile of the respondents: electronics is a diverse topic, with few – if any – engineers having knowledge or influence over all aspects of our industry. For many companies, where their target audience represents a small fraction of all electronics engineers, the number of relevant answers could be quite small. It's likely, however, that the survey will breed a number of press releases that use market research to create a story or promote a product: unfortunately an approach that often results in dull, obvious releases.
Correction – 25th July, 2007
Electronics Weekly will, in fact, guarantee 200 responses from a particular profile of respondants (e.g. microcontroller specifiers). The research will also break down the results by the demographics used to profile the circulation. This is great news, and makes the research service something everyone should consider. The only downside is that the current plans are to run at a frequency of around 1 per quarter (driven by demand), which could cause a significant wait for results if you just miss a survey.
Richard Ball to leave Electronics Weekly
April 20th, 2007
What could be better than working as an editor in the European electronics industry? For Richard Ball it appears that dangling on a rope attached to a mountain is a much better option as he is leaving to become a climbing instructor and to take a teaching qualification. We'd like to wish Richard the best of luck in his new career, and look forward to watching him absail down the Reed tower block on his last afternoon!
EW announces Smart Power conference
March 22nd, 2007
Following-on from the Clean Design event, Electronics Weekly has announced Power Management 2007, and event designed for managers, senior engineers, design engineers and technical management with an interest in efficient and cost effective power management. Like other Electronics Weekly events, the sponsors will have a huge influence on the content of the presentations, with packages ranging from £9000 for Gold sponsorship to the £2000 package that primarily gives you a table-top exhibition space. This event continues the trend for more and more small, highly focussed conferences.
Electronics Weekly announces golf day
February 24th, 2007
Perhaps not the most innovative of events, but apparently some people enjoy walking miles to hit a small ball with a metal stick. Electronics Weekly has announced they will be holding an industry golf day in June. Lots of sponsorship opportunities are available to promote your company to the golf-loving buyers in the industry. For more information (but not golf lessons!) contact Napier.
Electronics Weekly clean design conference
February 8th, 2007
Environmentally-aware design stretches well beyond just meeting the legislation, and Electronics Weekly will be offering companies an opportunity to discuss all aspects of "clean design" at the upcoming event on 23rd May in Reading, UK. Inevitably the broad scope of the event means that the initial sponsors are Government bodies and ditributors, but we would expect a number of component manufacturers to want to get involved. A variety of sponsorship packages and table-top spaces are available.
Electronics Weekly to extend blogs
January 26th, 2007
Electronics Weekly is planning to launch a series of blogs written by "industry figures", extending the portfolio of blogs beyond those written by David Manners and Richard Ball. Electronics is an interesting industry as few blogs that have any significant impact on the industry, although notable exceptions such as Nick Flaherty's Embedded Blog do exist.
Is this a good idea? Are the editors of Electronics Weekly putting themselves out of a job? Some commentators such as Chris Edwards seem to believe that journalists as information intermediaries is an outdated concept (despite being an editor himself): in a recent post he said, "For the last few years, I've been saying to PRs that their contact with the press, particularly those in trade media, is going to go away. They need to go direct to the user." Clearly the blogs on Electronics Weekly go some way towards fulfilling this prophecy.
At Napier, however, we don't think that this move by EW means journalists should be retraining. The blogs provide the opportunity for opinion and comment: something that is rarely provided by journalists in our industry (for some good reasons – perhaps we'll post a story about why this is the case in the future). In electronics, editors perform a different function: firstly they provide an intelligent filter for the information and secondly they aggregate information and opinions about particular topics in a very efficient way. Neither of these functions is done particularly well either by search engines or by RSS readers. Perhaps the new blogs on Electronics Weekly will produce a contributor of the calibre of Bob Pease, whose articles for Electronic Design on subjects from Floobydust to PLLs are required reading for almost every engineer at some point in their careers. Bob actually would fit the bill as the perfect blogger for EW – although Penton his current employers might have something to say about that. But if EW could find another writer like Bob, I'd read the blog every week!
Electronics Weekly launches blogs
November 22nd, 2006
Electronics Weekly launched blogs from David Manners and Richard Ball just before electronica. OK, so they're not exactly the first journalists in our sector to blog, but now they have had a chance to post a few stories, we think everyone should check out the blogs. In particular read their views on the CEO panel at electronica: in particular David Manners' blunt assessment of the failure of the CEO of ST Microelectronics to attend is a reminder that journalists in the European electronics media aren't just mouthpieces for the major companies in the industry! Click here to view the blogs.
Electronics Weekly to run more events
November 20th, 2006
With the Elektra awards now established as the biggest knees-up for the industry, and plans for an even larger event in December 2007 (an 800-seat dinner at the Hilton Park Lane), Electronics Weekly is expanding it's event activity to include stand-alone technical conferences.
In April a conference on "Clean Design" is planned, and a power management event is pencilled in for the end of the year. These events will include a conference, table-top exhibition and a gala dinner. Although they are relucatant to commit to a target for numbers, we understand that Electronics Weekly is aiming for around 150-200 attendees per event, with a focus on attracting senior-level delegates.
Electronics Weekly to issue electronica special
July 12th, 2006
Like many other publications, EW sees electronica as an opportunity for more advertising, and has announced an electronica guide for the electronics designer. Due to be published on 8th November, the supplement offers a wide range of opportunities for exhibitors to promote their presence at the show.
Elektra Site Fails
June 24th, 2006
Yesterday – the deadline for submitting entries for the Reed European Electronics awards (Elektra) – the entry form on the site failed. Perhaps it was due to the large number of people that believe the maxim "if it wasn't for the last minute, nothing would get done" (although the extension of the deadline for these awards has become a tradition. For those leaving thing late, entries could be submitted by email, and the form is still live at the time of writing.
Reed awards looking for entrants and sponsors
March 9th, 2006
Elektra 2006, the European awards organised by Reed Electronics Group will be held alongside electronica in November. The site contains details of the various sponsorship opportunities, and also the entry form. The categories are: Manufacturer of the Year, Supplier of the Year, Distributor of the Year, Product of the Year, System on Chip Design Award for Industrial & Automotive Applications, Semiconductor Product of the Year, Investing in People Award, Embedded System Innovation of the Year, Environmental Award, Research & Development Award, Design Application Award, Online Business Award, Start-up of the Year and Company of the Year. Deadline for entries is 23rd June.
Electronics Weekly launches first paid-for microsite
May 17th, 2005
Electronics Weekly and IDT have launched the first paid-for microsite on ElectronicsWeekly.com. The Communications ICs & Solutions site is built using a broad range of content from both IDT and EW, and demonstrates how online advertising need not be restricted to pretty animated graphics. The project has been run for IDT by Napier, so we'd love to hear your comments about the site. Email to let us know what you think.
Elektra deadline extended
May 4th, 2005
Electronics Weekly, organisers of Reed's European Electronics Industry Awards (with the new, cool "Elektra" branding!) have extended the deadline for entries to 18th May. There's still time to get your entries in: contact Napier if you want help in putting together an entry submission that will really grab the judges' attention.
Dean Slade did it!
April 18th, 2005
Congratulations to Dean – who completed the London Marathon at the weekend – from everyone at Napier. Dean raised loads of money for a children's charity, The Children's Trust. If you didn't sponsor Dean, you can still donate money via his web page. Congratulations are also due to Harry Yates, R&D editor of Electronics Weekly, who also completed the marathon.
Electronics Weekly introduces features rate
April 4th, 2005
In a move to make the title more affordable to advertisers, Electronics Weekly has introduced a "features rate" for adverts that appear with the features in the middle of the magazine. Although Reed is not like to be this blunt, we believe that the fact that the move to rate card resulted in a substantial increase in page rate for many advertisers is the major cause of EW's loss of share reletive to their competitor titles. This new rate offers a route back in for those disappointed advertisers and we believe that it will result in a stronger magazine.
Electronics Weekly bolsters online team
March 29th, 2005
We like ElectronicsWeekly.com, which is already one of the best online electronics sites in Europe. Now RBI has increased the focus on the site, by naming Richard Ball as web manager responsible for the development of the site, and Chris Martin as sales manager.
Richard is well known in the industry, and was previously deputy editor of Electronics Weekly. Chris has previously worked for cw.com, the online arm of another Reed publication Computer Weekly, as well as working for Associated Newspapers on the Evening Standard's thisislondon web site and the Independent Newspapers Group.
It's unlikely that another UK title will be able to match the commitment and investment that RBI are putting into the electronicsweekly.com site. We think that these moves – coupled with the promotion in the print magazine – mean that the site will continue to dominate the UK online electronics media. Whilst the industry remains in a depression, it will be tough to make money online, but the strength of the site should ensure that it will take a large percentage of the online advertising spend in the UK electronics industry. The revenue from the jobs section will also help!
Reed industry awards get new name
February 24th, 2005
The Reed European Electronics Industry Awards for 2005 have been launched under a new brand "Elektra 05". Despite having branding that could have been invented by the most popular heavy-metal magazine in the UK (email Mike or ask any other British engineer for an explanation!) these awards are a key event in the European electronics calendar. With support from the Reed titles in Europe such as Electronics Weekly, EPN and CIE, these awards are the only truly pan-European prizes in the industry.
Visit www.electronicsweekly.co.uk/awards to enter and to book your place at the glitzy Grosvenor House evening on 28th September. Companies looking to increase their brand awareness, might also consider sponsoring some of the awards. The Investing in People Award, Training Award, Project Team of the Year, Start-up of the Year, Company of the Year and even the flagship Product of the Year awards are all looking for sponsors. Contact Napier to get a great sponsorship deal.
EW bangs the drum
February 16th, 2005
Electronics Weekly today featured a readership survey that showed it to be the leading UK title on its front cover. Whilst we understand the competitive pressures of the market, we wonder whether the readers really think this is amongst the most important news of the week. Advertisers and agencies that understand the market respect the quality and readership of the magazine (and also should also be impressed by the online magazine and the website).
Surveys, however, always have limitations. For example the story says nothing about the sample used, other than naming the companies for whom the survey was performed. The headline percentages in any survey can be misleading. It's unlikely that the people participating in the survey exactly represent your target market. If you want to know more about which magazine has the best readership for your advertising, why not ask Napier. We may well recommend Electronics Weekly, but we'll make sure that any analysis looks specifically at the markets you want to address, and the messages you want to communicate.
Give Dean your dosh!
February 14th, 2005
Dean Slade – the Group Advertising Manager at Electronics Weekly – needs money! No, it's not a sign of the depressed market, he's running the London Marathon to raise money for a special children's charity, The Children's Trust. You can e-mail your pledge to Dean or visit Dean's fund raising page to pledge your support on-line.
Entertainment from Electronics Weekly
December 7th, 2004
In a novel attempt to get the decision makers of European electronics marketing to visit their media centre, Electronics Weekly are offering a game to play in the runup to Christmas. With a somewhat tenuous link to their latest BPA figures, and a game that doesn't quite match Half-Life 2, you might think that there would be little interest, but the competition offers two mini iPods as prizes for those people with little to do in the runup to Christmas. The closing date for the competition is 20th Dec.
Electronics Weekly circulation hits 41,267
November 7th, 2004
The first major European title to really develop an online circulation – Electronics Weekly – has released their latest BPA figures, which show a total qualified circulation of 41,267. Interestingly the total number of subscribers receiving digital versions is 19,466, compared with 26,258 receiving print copies (adding the numbers doesn't equal the total circulation as some people receive both formats).
So is Europe a leader in online publishing? Probably not yet, although the online circulation of EW is phenominal: EE Times manages only 5,000 online copies in its total circulation of 150,000 in its last BPA (Dec 03) – despite the perception that Europe is lagging the US in acceptance and use of the Internet.
Electronics Weekly Awards shortlist now published
October 14th, 2004
The shortlist for the Electronics Weekly Awards has been published. The shortlist also featured in this week's issue of Electronics Weekly.
2004 European Electronics Industry Awards shortlist due this week
October 4th, 2004
The Electronics Weekly site promises that the shortlist for the 2004 European Electronics Industry Awards, despite rumours that the Internet-based judging process hasn't started. Hopefully we will be able to bring you the finalists before the end of the week.
ElectronicsWeekly.com to offer sponsored links in editorial
September 15th, 2004
Electronics Weekly has confirmed that they will soon offer companies the ability to sponsor specific words in editorial copy, in a similar way to ComputerWeekly.com (CW is also published by Reed, and the EW website was built using technology from CW). This will give advertisers the opportunity to sponsor words or terms – for example "processor" – and whenever this word is used in editorial, the word will be underlined. Move your mouse over the word, and a box will appear with a short text ad, or click on the word, and you will be taken to the advertisers website. This "IntelliTXT" system provided by Vibrant Media is already available on the CMP sites eetimes.com, embedded.com and siliconstrategies.com, although a quick scan of these sites shows that the use of these links is yet to take off in electronics.
Electronics Weekly extends deadline for European Electronics Industry Awards
August 2nd, 2004
Electronics Weekly has announced an extension to the deadline for their European Electronics Industry Awards to 20th August, reducing stress levels of Marketing Managers around Europe. Think your company could win an award? Contact Napier and we will write and submit your entry.
Electronics Weekly re-vamps website
May 5th, 2004
ElectronicsWeekly.com, the most popular UK electronics magazine site by far has been further improved with the launch of a completely new look, and several new features. Reed have made use of the underlying design and technology that they created for the Computer Weekly site, which should mean that the costs were kept under control. The improvements, coupled with the inherent advantages of being linked to a weekly title are sure to maintain Electronics Weekly's dominant position in the UK market.
Electronics Weekly still looking for sponsors
February 27th, 2004
Electronics Weekly are still looking for sponsors for the online edition. Already with over 7000 registered readers for the online version (some also recieve the print version, but circulation is growing quickly), you'd think that companies would be keen to get involved. But not yet.