This is a summary of all of the blog posts we have written about EPN up to December 2018.
EPN to close, EDN Europe moving to EBP
February 13th, 2013
Reed Business Information is exiting the electronics industry (well OK, they still have an electronics email e-bulletin, but that doesn't really count as a publication). Their licence to publish EDN Europe expires at the end of this month, and UBM has decided to re-allocate it to EBP, publishers of EE Times Europe. Martin Savery, the publishing director for EDN Europe and EPN was fairly philisophical about the decision, pointing out that, "in every other market both brands licensed to a single licencee". As the only territory where EDN and EE Times were published by different companies, it seemed obvious that something had to give in Europe.
The last issue of EDN Europe from Reed will be February 2013. We don't have any news yet of EBP's plans for EDN Europe, but keep checking the blog over the next few days.
Sadly RBI has also decided to shut EPN. Although I believe that other publishers would have been interested in taking on the title, apparently the management of RBI aren't prepared to invest the time to sell it. And in a way you can understand it – the costs of putting together a sale might well be more than the value of the brand. There will be a March issue of EPN, but title will close and the website will be pulled down at the end of the month.
As the changes haven't been officially announced, we've yet to hear what EBP will do with EDN Europe. Personally I really hope that Graham Prophet will continue to edit EDN Europe – he's almost synonymous with this publication. Caroline Hayes, however, will be looking for a new role, although I imagine she will soon have a number of offers in her inbox. We understand that Martin Savery, who speaks and writes Chinese, plans to do some consultancy for the Asian markets.
UPDATE: 14th Feb 2013.
RBI has also confirmed that Industrial Automation News (IAN) will also be closed as part of this change. The last edition of IAN was December 2012.
EPN 40th anniversary forum at electronica
October 26th, 2012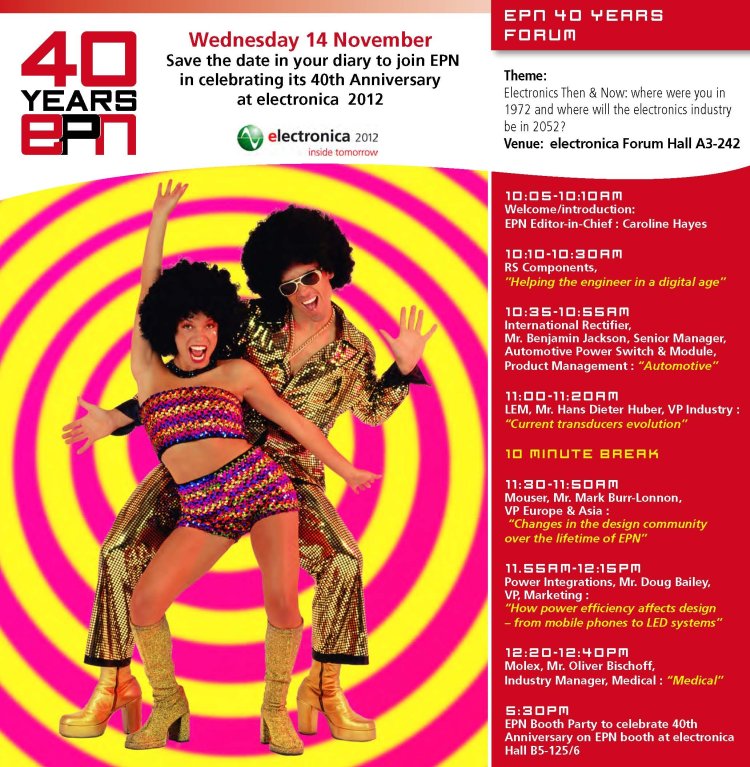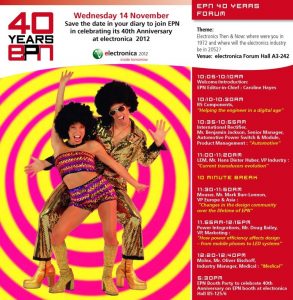 Congratulations to EPN, which is celebrating 40 years of publishing with a Forum at this year's electronica. Featuring leading figures from the industry, including our client LEM, which is also 40 years old this year, the forum will be held on Wednesday 14th November from 10am to 1pm at A3-242 and is free of charge. It's going to be an interesting event, and we will try to bring you some video highlights of the forum after the show.
EPN cuts showcases and partners with Darnell
September 1st, 2012
EPN has decided to reduce the frequency their product showcase emails to once a month, but at the same time are introducing a new newsletter being run in partnership with Darnell: PowerPulse weekly Europe. It's great to see a publication deciding that the way forward is to improve the editorial content of their email newsletters, and I'm sure that the PowerPulse emails will not only be appreciated and well read by subscribers, but the higher levels of engagement will also make any advertising more effective.
EPN to celebrate 40 years at electronica 2012
June 4th, 2012
EPN will celebrate its 40th anniversary with the EPN Forum – an event at electronica, where speakers from a range of companies will look back over the last 40 or more years of the electronics industry and reflect on how electronics design and technology has changed. The focum will be held on Wednesday 14th November, from 10am to 1pm in Hall A3.
The forum is a great idea and should attract some high-level speakers. I'm definitely going to be dropping by to walk down memory lane with EPN!
EPN delivers bumper digital issue
March 9th, 2011
Although I admit that the "designed for on-screen reading" layout is inevitably going to generate more pages for a given amount of content than publications that are simply replicating a print design, I was still impressive to see the 86-page March issue of EPN. It's always good to see magazines doing well, and it's nice to see that digital-only publications can pull in some serious advertising.
EPN launches renewable energy email newsletter
February 15th, 2011
EPN has launched a renewable energy email newsletter. The newsletter covers a very wide range of products that can be used in renewable energy, smart grid or power-efficient applications. Although it would be nice to see a clearer focus on renewables, the newsletter is clearly a great addition to EPN's portfolio.
First digital-only issue of EPN
January 12th, 2011
The first digital-only issue of EPN has been published and is now available on the Ceros platform. The new layout looks very similar to the preview we showed in Napier News, and the content remains product driven, although there has been a noticeable increase in more in-depth articles.
Personally I like digital publications, and the new layout of EPN is great. By designing the magazine specifically for on-screen EPN is easy on the eye – even on my small laptop screen. It's great to get a digital publication that doesn't require constant zooming in and out to read the text!
The January issue is a very respectable 52 pages, although this would probably equate to about 20 pages in the old tabloid print format.
I really hope that digital publications thrive, and that EPN is one of the publications that can lead the way. The adoption of digital magazines was slowed significantly by publishers simply creating digital versions of their print layouts, which proved unreadable on-screen. ED Europe has long lead the way with a layout specifically designed for digital consumption (and has achieved outstanding open rates as a result), and it's great to see other publishers recognise the importance of design on digital platforms as well as in print.
EPN and EDN Europe drop BPA
November 3rd, 2010
In the "official" announcement that EPN will switch to all-digital circulation next year, Reed has also announced that EPN will resign from the BPA at the end of the year. Sister publication EDN Europe also recently made the same move. The claim is that by publishing "monthly statistics about digital edition circulation, opening rates, click-thru rates, PDF downloads, etc." there is not need for an audit as "the digital edition has all the measurability and performance statistics that a website has to demonstrate advertising return on investment (ROI) and the effectiveness of both editorial and advertising."
I'm not convinced by the argument. Although there is no question that digital delivery of a magazine does give you great stats, it doesn't cover the demographics that you'd get with an audit – for example job role, products specified, etc.
One of the benefits of digital magazines, however, is huge fall in cost vs. printed publications. Audits are expensive, so I can understand that publishers would question the value for a digital title. Additionally the lack of BPA-audited competition from other pan-European publications means that the penalty for dropping the audit is significantly reduced. It will remain to be seen if the lack of an audit significantly reduces the amount that advertisers will pay.
Sneak peak at a draft of EPN's new layout
October 15th, 2010
With EPN switching to 100% digital distribution, it was obvious that the layout had to change. We've seen a draft of the new layout, which seems to do a great job of making the publication very readable on-screen, without the need for zooming in and out.
The new layout uses 3 columns per page, and the screenshots below show the publication laid out as spreads.
EPN confirms move to all-digital distribution in 2011
October 15th, 2010
It's not been much of a secret, and with the release of the media pack it's now official – EPN will drop all print distribution in 2011. The title will follow EDN Europe to all digital distribution, reflecting the inability of most publishers to be able to make sufficient money to support the print and postage costs associated with a pan-European title.
EPN will also see a drop in total circulation from 50000 to an estimated 30000 in January 2011 – and the figure of 30K relies on Reed persuading 12000 readers to switch from print to digital.
We're now left with just one general electronics publications offering print distribution on a pan-European basis: EE Times Europe. Surprisingly, however, more focussed publications seem able to make ends meet, despite having a smaller advertising base to support them: the three power titles and Embedded Control Europe. Although they clearly benefit from relatively small circulations, when publications such as EDN Europe switch to all-digital distribution, the falls in registered readers have taken them to a similar scale of distribution as the vertical titles.
What does this mean? Perhaps against all the odds, EE Times Europe has been left as the "last man standing". It's obvious to me that – in Europe at least – many marketing managers believe that print is more effective than online: they make this abundantly clear when they talk about the value of print and online PR coverage. So presumably EE Times should see a significant boost to advertising revenue. It will be interesting to see if they can capture more advertising revenue and make the pan-European print product a profitable business.
Nick Walker moves to Penton, EPN joins John Waddell and will go digital
September 10th, 2010
Nick Walker is moving from his role as advertising manager at EPN to Penton Media, taking over from Alastair Swift at the end of this year. This follows his recent appointment as UK rep for Elektronik Information. John Waddell will take over from Nick, adding responsibility for EPN to his current role selling EDN Europe.
I'm not surprised that this has happened. The reduction in advertising spend means that it makes sense to combine sales for sister publications such as EDN Europe and EPN. On the other side, Nick gets to sell Penton's US titles over here, which should provide him with some decent business.
It's also pretty clear that EPN will only be distributed as a digital title from January 2011. This follows EDN Europe's move to all-digital circulation at the beginning of this year. I'll be watching closely to see whether this is a great move by Reed's European titles, leading the way to digital distribution for all titles, or whether it proves to be an unsustainable cost-cutting measure. Personally I believe digital titles have a great future, and the publications that are prepared to invest in the technology at an early stage will have a long-term competitive advantage.
EPN drops circulation to 50K
January 2nd, 2010
Reed has reduced the circulation of EPN from 60K to 50K. The magazine still retains a large print distribution of 32K, whilst 18K readers receive the digital version. E-mail newsletters circulation has also dropped slightly from 20K to 17K in the latest media pack. That magazine retains its BPA audit, and therefore continues to be the European electronics title with the highest audited circulation. Given the challenges faced by the whole market, and recent cutbacks at Reed, the fall in circulation is not surprising although it would have been nice if more readers could be convinced to take the digital issue, rather than dropping off the circulation.
EPN to launch new multi-language blogs
November 26th, 2009
Hot on the heels of the announcement that Reed is getting out of the French language electronics market, the Paris-based publisher has announced that it will launch two new EPN blogs covering industrial automation and automotive electronics. Both topics will be covered by blogs in English and German.
The move into German-language content is interesting, and appears to be somewhat opportunistic as the blogger for both topics will be the excellent Marisa Robles Consee, who can write excellent English and German articles.
It will be interesting to see if this is the start of a more determined foray into the overcrowded German market, or if it turns out to simply be a 1-off to take advantage of great editorial talent. Either way, it's good to see that EPN continues to recruit bloggers that can match the very high standard of the existing Distribution and RF blogs.
Reed makes dramatic cutbacks in Europe
November 22nd, 2009
Reed has decided to close EPE and EPN France, as well as switching EDN Europe to an all-digital circulation. I've written separate posts on each of the titles, but the extent of these cutbacks is shocking. It's now time for new online titles with low-cost business models to launch: all these publications were able to generate a significant advertising revenue that would no doubt could be profitable for a different set-up.
At Napier we've seen the IT industry transformed with great online publications that generate great traffic and strong revenue. I hope there are entrepreneurial editors who can make the same thing happen in the European electronics media.
EPN France to close
November 22nd, 2009
Reed has decided to close EPN France at the end of this year, despite the merger of Electronique and Electronique International from the beginning of 2010. This leaves just one major French publication. The EPN France website will also close at the end of 2009. The news was also announced at the same time Reed said they would distribute EDN Europe only as a digital title from January 2010.
I'm amazed that Reed feel they can't make money with one of just two French titles. Although the German electronics market is somewhat larger than the French market, the vast disparity between the number of publications in each market makes no sense.
At Napier we saw a similar collapse in the French IT print media, but this resulted in a number of new online publications. The electronics market has yet to see many online titles driven by "real" editorial content (rather than simply taking press release content). It will be interesting to see if online electronics sites are launched to create new vehicles to reach French engineers: I'd certainly back any new launches as it seems any reasonable site would be almost guaranteed to succeed!
Editor interview – Caroline Hayes, EPN
September 24th, 2009
Didn't product books die out years ago?
Engineers have always been interested in finding out about new products. Look at the amount of pages that news and other titles give to new products. At EPN, we have made new products our speciality! It's what we do best and so we focus on delivering new products from around the world to readers across Europe. The large amount of responses we receive to 'bingo' numbers via the web on each story supports this approach of give the people what they want!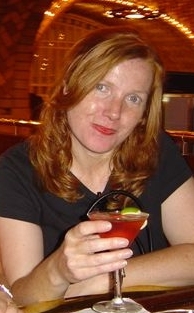 What does a magazine deliver to engineers that they can't find when searching the web?
Magazine editors are the ultimate spam filter! We choose the products that are of interest, that take the technology up a notch or which are truly new and different. The beauty of a magazine is that sometimes you didn't know you are looking for something until you see it in the pages of EPN! It is also impartial and measured information about products, not the marketing department's idea of a good story, which can be reproduced on some online sites churning out content. Editor's ask questions on behalf of their readers, i.e. engineers, to make editorial particularly pertinent to their daily working lives; again, you won't find that on a company's website.
How do you balance your time between writing for the print publication and writing for epn-online.com?
Product stories that appear in the magazine also appear online so most of my time is spent writing these. I write some online-only product stories too. I also write some content for the online section, Industry News. These are news stories about a new Alliance or Industry body; a merger/acquisition or technology collaboration. However, EPN is all about products, so while these stories are of interest to engineers there is no product in them and are not as prominent on the homepage as Top Products. I conduct an Interview of the Week, another online feature, occasionally. This is a Q&A with C-level executives or technology experts; although I can only claim to dabble – Mick Elliott is the man for probing questions!
In similar industries such as IT, independent blogs have become a significant medium. Yet in electronics there are few independent blogs, with most blogs part of the online presence of a large publication. Why do you think electronics is different?
I must confess I hadn't thought of the electronics industry being different. Writers become associated with a target audience. National newspapers have blogs of their columnists which are accessed through the newspaper's home page. Perhaps with IT, blogs are opinion-pieces about whether a new OS is any good or more corporate news with what Google or Facebook is up to. Maybe electronics journalists aren't as opinionated as IT ones! The audience is different. Engineers don't get het up about whether one FPGA is more stylish, they clinically compare attributes and make informed choices. The electronics industry seems to have ploughed its own farrow, reporting intelligently via blogs on magazine homepages. At the risk of sounding immodest, EPN has two of the most qualified in their field bloggers, Mick Elliott reporting on distribution and Helen Duncan reporting on all things RF and Wireless – their posts are certainly independent!
What changes do you expect to see over the next three years in the European electronics media?
You are not the first to have asked! At the risk of disappointing you, I cannot prophesise a paperless office with online or digital editions soon. A few companies seem to value appearing in print above all else, so, I am not convinced that print will disappear by the time of the London Olympics! Maybe in another five to 10 years, when all the graduates today who are more web-dependent for information sources are in engineering jobs, the emphasis for content delivery will change.
However, I may be like the Hollywood director who dismissed Fred Astaire's audition with the words, "Can't sing, can't act, can dance a little"! The real crux of your question is that no-one, if they are honest, knows what will be most popular and effective for everyone……
What is the one thing you'd like to change about the way companies do PR in the electronics industry?
You're going to limit me to one? ! OK, use someone who knows about publishing AND electronics. A knowledge of both will eliminate the following sins: putting management-speak or eight words instead of one in a presentation/press release; suggesting meetings without thinking what will the editor get out of this? (A story, should be the answer, not a cup of tea and a chat!); sending a press release containing all the information, and an image with the highlights superimposed on it – trust me, I'll know to mention that it consumes only 8µA in sleep mode
And that's me being restrained!
What do you enjoy doing in your spare time, when you're not writing about electronics?
Horse-riding. I live in London, but there are some stables nearby and when hacking across the lower fields, you would never guess that half of London was racing to get to the other side of London, a few feet away! When I go away with work or family, I always try and book up a horse-ride – you see nature differently on the back of a horse!
What's your favourite gadget?
I am very attached to my Blackberry, but it's a bit like chocolate – I have to lock it away sometimes!
Is a microwave a gadget?!
I might have said sat-nav, but I have had a few arguments with it lately when it takes me in a circle or the long way round!
Personal DVD players keep the kids quiet on journey which makes them worth their weight in gold!
Years ago, I had a solar-powered calculator that converted metric to imperial measures and Celsius to Fahrenheit and vice versa – that was invaluable! It's probably an iPhone app now. I wish there was a portable barcode reader that could convert the world's currencies in real-time so that I could confirm that it really is a bargain!
Electronique and Electronique International to merge
September 10th, 2009
Electronique and Electronique International, which already share the same Electronique.biz website, are to merge into a single print publication in January 2010. I'd expect this to be a very strong title exerting powerful influence over electronics engineers in France. Plans for the merged publication are being developed: check back at Napier News to be first to find out what happens!
From a personal point of view, it's disappointing that the French market is going to be served by just two main titles: the new merged title and EPN France, but the costs of publishing print titles in France just seem too high to support a strong B2B press. A couple of years ago, the IT industry print press contracted significantly, which lead to a number of online publications being launched: many by the editors who used to write for the print titles. It would be great to have strong, competitive online media that covers electronics for the French market, and I hope that some people see this as an opportunity.
EPN launches RF and Wireless blog
July 8th, 2009
EPN has launched its second blog – the RF & Wireless Blog. The blog aims to provide daily posts on the world of RF/Microwave & Wireless components, technology, systems, standards, applications and events from a European perspective and is written by RF specialist Helen Duncan.
If the RF & Wireless Blog can match the quality of EPN's first blog, Mike Elliott's must-read EPN Distiblog, then the site will definitely have another winner!
EPN launches contextual adverts
June 17th, 2009
EPN has gone a little Google-esque with their new contextual adverts. Rather like Google AdWords that are run on many different sites in their "content network", you can define keywords that will trigger display of your advert. Unlike Google, however, you know that the chance of inappropriately triggering an advert is minimal, as you not only know on which site the advert will appear, but you can even restrict the channels on EPN in which the advert is active. This is going to be a boon to advertisers – for example the manufacturers of power supplies that have ads for "AC/DC" supplies running on rock music websites!
Unlike Google, however, the adverts are pay-per-impression, rather than pay-per-click. Hopefully this will come in the future, and presumably if this happens EPN would highlight the very targeted nature of the traffic to their website to justify higher CPCs than Google.
Editor interview – Mike Green
March 5th, 2009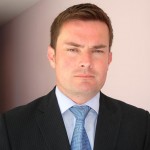 You were editor of EPN, the largest circulation electronics title in Europe, and you decided to leave. What could be better than editing EPN?
EPN was great to work on, but after nearly 9 years with the RBI publishing group (a great deal of that time working on EPN), a change of scene was long overdue. Also being managing editor meant I really had a struggle on my hands to make time for writing articles that interested me. Too often you tend to just get tied down with all the admin and political stuff. Working on ECN and Wireless Design I get to write a lot more about the issues affecting the European market and that is much more fulfilling.
What do you enjoy doing in your spare time, when you're not writing about electronics?
Well as you know I have had a couple of books published, and so this has been a quite a big part of my life over the last 4 years or so. I have also been studying at Cardiff's Art College, and have just completed the first stage of a degree in fine art. I love travelling, doing a variety of sports, and all the usual socialising stuff. I also follow the rugby, but being Welsh that is mandatory.
Do you prefer writing books to editing magazines?
I think they are both pretty good really. All of us in the electronics press like to have a little bit of a moan now and again, but in reality it's a pretty good way to earn a crust. There aren't many occupations that allow you to have such varied work. Meeting people doing cutting edge research, learning about new innovations, getting to speak to the industry's real decision makers, and then being given a platform on which to voice your opinions about all this sure beats the monotony that a lot of my friends have to put up within their workspace. Books are a bit different. Obviously they are far bigger projects to embark upon, so they take a lot of leg work, and the process can be frustrating at times, but the rewards of getting something into the bookshops make it well worthwhile.
What are your plans for your next book?
Well, actually I am currently working on a third book, which looks at the relationship between art and science. It looks how these two subjects have interacted over the centuries; from the Quatrocento through the Renaissance and Enlightenment periods right up to the modern day.
Your books are only available in print, whereas you're the European editor for Wireless Design and ECN, which have launched digital-only titles here. So what is the future – print or online?
For most of the time I was with EPN the main focus was on print, and though later on there was an increasing emphasis on web-based offerings, it was still the paper version that made up the majority of the readership. I think that there should be room for both print and digital. The editions of ECN and Wireless Design which are emailed to the readership here in Europe have a number of advantages. They are easier to search through, they can be archived, and they have less of an environmental impact. Also there is a lot more room to develop new ideas in terms of advertising. To complement this web-based editorial services are obviously far more immediate, and allow readers to get involved (in terms of commenting on blogs, etc). I still personally enjoy getting print magazines through the post, and I think a lot of other people feel the same, but it seems likely that the emerging generation of engineers and tech management will prefer digital and on-line publishing.
Why do you think people would read a digital magazine like Wireless Design Europe when there are competitors available in print?
I would say it is not so much a matter of how they get it, but more what they get. As Engineers want editorial that can help them in doing their job, what source that comes from is not something they worry about. Also, as mentioned, digital editions have several added convenience factors.
What is the one thing you'd like to change about the way companies do PR in the electronics industry?
I have been dealing with the PR community for a long time now, and for the most part have had good experiences. I think, like most journalists, my biggest pet peeves would be when deadlines aren't kept on material (although, to be fair, this is usually more down to the company being represented rather than the PR firm themselves) and when requests for information or interviews aren't responded to in a timely manner. Another one, that I know a lot of my colleagues would agree with, is that firms often think in terms of just ticking boxes. For example, a PR manager will make a big thing about getting as many editors to meet with them at a show even if they have nothing new to say at that time. It means they can go to their bosses and show nice statistics and metrics with which to gage their success, but in reality it is just counterproductive. If you 'cry wolf' too many times, people won't want to know any more.
As you are now writing for a number of titles, does this let you be more focussed on the technologies that interest you?
Yes, I would say so. ECN has a broad based editorial remit, but I really tend to concentrate on the technologies and application areas that are of particular relevance to Europe, or where European companies are leading the innovation. With Wireless Design it is great to be involved in a telecom-based publication again, as it is still a really interesting field, with plenty to write about.
What's your favourite gadget?
It's a little ironic I know, but I am still a bit of a Luddite at heart really. I am a lot more enthused by technological advance that can improve healthcare, enhance vehicle safety, or provide us with sustainable energy resources, than what is currently on sale in the high street shops. I'm not one of these people who just buys up any new consumer device on a whim, I really have to see the value in it first. But I think that having an element of scepticism is a good thing sometimes, as you can give an objective view of whether the technologies being touted are actually going to make people's lives better. While at magazines like EPN, Telecom-Plus, and Hyperelectronics I had to sit through quite a lot of PowerPoint presentations where it was hard to see what real benefit would be gained, companies were trying to solve problems that were not there in the first place. Anyway, I guess my MP3 is the gadget that I get most use out of, though it is getting a bit battered now.
EPN to shrink
February 25th, 2009
In a move that presumably helps reduce costs, EPN and EPN France will shrink by 0.5cm in width and 1.5cm in height. The first issues of the new format will be the April issue of EPN and the April/May issue of EPN France.
Caroline Hayes appointed editor of EPN
August 1st, 2008
Caroline Hayes, the well known and popular editor of EPD, has been appointed as the new editor of EPN, moving to her new role on 29th September. Caroline will replace Mike Green, who did a wonderful job developing EPN, proving that [not all] product books are dead. Mick Elliott will be acting editor until Caroline joins the publication.
There are reletively few editors currently writing in the UK electronics market who could have taken on such a role, so this appointment must be regarded as a very positive achievement for Reed (publishers of EPN). The loss of Caroline must also be a disappointment for EPD, particuarly given the work done to enhance the magazine's circulation and audit. I will be very interested to see who IML selects as the next editor of EPD. I'd personally like to see an experienced editor with technical expertise move into the electronics sector from another market, rather than a continuation of an editor merry-go-round. Growing the pool of editorial talent in our industry must be good, and CIE has proved that it can be done successfully with the appointment of Neil Tyler. Keep checking Napier News to make sure you are one of the first to know when the appointment is made.
All change at EPN
June 27th, 2008
Mike Green will be leaving his role as editor of EPN, leaving Reed looking for a replacement (although we understand an announcement is imminent). Mike wanted to concentrate on his career as an author and other freelance projects, although he will continue to freelance for the title.
EPN recently recruited industry veteran Mick Elliot to cover distribution and Test & Measurement, as well as to write some of the magazine's supplements. If EPN can recruit a similar figure as editor, the future of the title should be rosy.
To gossip about who might take over, send me an email!
Wolfgang to leave EPN
May 1st, 2008
It has been announced that Wolfgang Patelay is leaving EPN to write for CMP. He'll be editing one of the online DesignLines publications, as well as contributing to EE Times. Mike Green is now left to edit EPN on his own, and will have to pursue his painting and book writing careers in even less spare time, although we're sure that the EPN editorial team will soon be strengthened.
New reader enquiry service for EPN France
March 26th, 2008
EPN France has moved to a similar reader inquiry service to its big brother, EPN. Readers will be able to access data sheets directly from the website, rather than submitting a request and waiting for a data sheet to be sent that in practice often never arrived from teh supplier.
Of course reader inquiry systems are struggling to survive as most engineers will go directly to the manufacture's website. But leads are hugely valuable: in fact I believe marketing managers in electronics often underestimate their value. Any system that can deliver new leads must be a good thing, and I hope that readers will value and use the EPN system.
Tony Johnson
February 29th, 2008
We were extremely saddened to hear of Tony Johnson's death during Embedded World. Tony launched EPN in 1972, creating the Pan-European electronics press. During his time at both CMP and Reed, he continued to help create magazines that influence the way designers think and we'd like to pass on our condolences to his family.
Julien Happich leaves EPN
February 11th, 2008
Julien Happich, who has spent 10 years working for EPN has annoucned that he will leave the magazine on 15th February to "take a year off in order to pursue other interests". We're sure that – after such a long time at the title – a change is something that is very much deserved. Everyone at Napier would like to wish Julien a very good year, and we all hope to see him come back to the industry next year.
Mike Green to lecture at Royal Society
January 28th, 2008
Mike Green, editor of EPN, will give a lunchtime lecture on Friday 14th March at the Royal Society, London. the lecture will be based on Mike's popular first book, The Nearly Men, and will decribe the rivalries, tales of treachery and acts of deceit behind the inventions and scientific discoveries which defined the modern age. We loved Mike's book, and would strongly recommend attending the lecture. Mike's next book, about the conflict between religion and science will be published later this year.
EPN strengthens US representation
January 15th, 2008
JAS Technical Media, the US representatives for EPN has strengthened its team with the addition of Aimee Kalnoskas. Her fabulous background, including Editor-in-Chief at ECN Magazine and Strategic Editorial Director at Wireless Design & Development will be a huge asset to JAS.
EPN launches new reader enquiry service
August 21st, 2007
EPN has launche a service that will allow you to access data sheets that relate to stories on the the website or in the magazine. EPN aims to link you (after a straightforward registration process) to the data on the manufacturer's website – something that we believe is much better for the manufacturer than magazine sites that try to keep the reader locked within their site. The obvious downside is the challenge of ensuring the links are maintained: a problem that will only grow as the content grows over time. We'd really like to see this system working, with more magazines working harder to drive users to suppliers' own websites, and will be reporting back on how well the EPN site is working.
EPN to judge passive/electromech Elektra awards
July 5th, 2007
In a move that will help give more pan-European credibility to Reed's Elektra awards, EPN will be responsible for choosing the short list and the eventual winner in the Best Passive/Electromechanical Component category. The judging of this award will be by a panel of EPN editors:
Mike Green, Editor-in-Chief EPN
Julien Happich, Editor EPN & Online Editor
Wolfgang Patelay, EPN's German Correspondent
Alain Dieul, Editor EPN France
Mcallight Liu, EPN's Chinese Correspondent
Aimee Kalnoskas EPN's US Correspondent
This has got to be a good move, as the awards have been somewhat UK-focussed, with Electronics Weekly managing the judging process, and we hope that EPN will continue to be involved in the future.
How effective is print?
November 20th, 2006
At Napier, we've always highlighted the benefits of print for making customers aware of new products – in new media terms, print is "push" media, whereas engineers in Europe tend to adopt a "pull" strategy when using online sites. Some recent research by EPN suggests that almost every reader is sometimes made aware of products that interest them by the magazine, and that over 2/3 of the readership regularly see products for the first time in EPN. We'd suspect that there would be similar results for many other magazines across Europe, but congratulate Reed on creating a question that shows the benefit of using European Electronics magazines. For more information about the research, contact Napier.
CIE to become EPN France
November 20th, 2006
Reed is to re-brand CIE (Composants Instrumentation Electroniques) "EPN France" from January 2007. The change will not extend much beyond the name of the magazine, and is clearly driven by the desire to present a familiar brand to advertisers based outside of France. The website will also reflect the name change, with www.epn-online.fr the main URL. This move will make it a little easier to sell CIE outside of France, particularly in the USA, and may help increase market share slightly for the title, but in reality is likely to have a negligible impact for marketers that know and understand the French electronics market.
Peelback Ads now Available on www.epn-online.com
September 19th, 2006
EPN Online is claiming that "far more news and products loaded up on a more frequent basis" has meant that site traffic "has rocketed!" They are also promising to soon have blogs and wikipedia added in the near future. Obviously much of this content will be driven from the other REG titles, but these moves sound positive (we'll forgive them the over-excitement about their site traffic!).
As a further service, they have also announced the availability of peelback ads: great for charging high CPMs. We just hope the focus is on more quality content, and these ads are not overused: it would be a pity to drive users away with too many intrusive ads.
EPN launches distribution guide
January 20th, 2006
In March, EPN will launch a new distribution guide, trying to help readers navigate the seemingly infinite agreements between component manufacturers and distributors. The first guide will appear in the March issue, and by focussing on a single product category each month, they hope to produce a manageable guide. Want to know more about channel marketing in the European electronics market? Contact Napier.
EPN offers something for free
July 18th, 2005
EPN is offering all advertisers in its September issue a free ad feedback study. These studies are all worthwhile, although provide somewhat superficial feedback, and there has been some unneccessary delays in the product of the results from previous studies.
EPN "re-balances" and reduces rate card
June 7th, 2005
Reed has made several changes to EPN, and here's our brief overview of what's happening:
– Entire subscriber base will be re-qualified every 2 years (rather than every 3). GOOD! We shouldn't really accept qualification every 3 years on a title like EPN.
– Circulation overlap between EPN and CIE reduced. GOOD! But more openness about circulation overlaps would be better.
– Total print circulation to reduce from 70K to 65K. This probably won't be seen as a big deal by most advertisers, if the quality of circulation improves. BUT EPN's definition of "print" includes the digital version of the magazine, so today only about 58K copies are actually in print, with the remaining 7K copies distributed as digital versions of the magazine.
– Design & Development job functions will account for 90% of EPN's readership by the end of the year (up from 58% today). Most clients will welcome this, and it represents an increase in the design and development circulation from 40600 to 58500.
– The rate card rates will be reduced by 21% for the Euro rate card, and 17% for the US$ rate card. Reductions in rates are always good, but it remains to be seen if the change in the rate card will have a corresponding effect on the rates that can be achieved in a negotiation.
EPN summarises the problems faced by publishers in our industry very well, "…lower print budgets allocated to Europe plus a perception that print budgets need to be squeezed to make room for online budgets." We think that these moves are a positive response that also recongise that engineers still want to receive – and read – printed magazines.
There are also a number of enhancements to EPN's online activity that we will cover in a separate story.
EPN enhances online offering
June 7th, 2005
EPN is upgrading its online activities. They will have a weekly news feed, and will have some stories that are exclusive to the website (I guess this means that the web will cover more than the print publication – something already done by many other titles). "Deep links" direct to datasheets on manufacturers' and distributors' websites will be introduced – something that may become a nightmare as these companies re-design their web navigation over time.
But the most interesting move is the launch of German-language content, with a series of e-newsletters sent to readers of both EPN and EDN Europe. With strong email newsletters already available from German publications, it will be interesting to see how successful EPN can be in this crowded market.
Not reading EPN? Why not?
January 19th, 2005
Subscribers to the digital version of EPN that have not clicked through to read the magazine online have received a reminder email. More "big editor" than "big brother"? We actually think that this is a really good use of tracking on the web – it's easy to overlook an email linking to a digital magazine, so sending the reminder should be seen as helpful.
UK is magnet for European editors
December 21st, 2004
Both Mike Green and Julien Happich – who edit EPN – are moving to the UK. Mike is moving to his homeland Wales, whilst Julien has chosen Cambridge, one of the UK's technology hotspots. EPN continues to be published from Reed's Paris office.
EPN digital edition – clarification
November 28th, 2004
We have received some clarification from Reed about the distribution of EPN. The circulation did include non-EPN subscribers, using the databases from the now-closed titles PCIM and Elektronik Revue as well as CIE. The confusion about the circulation came from the fact that Redd also distributed the electronic version to all print subscribers, but didn't tell anyone that they were going to do this! The details we received from Reed are given below:
——————————————————–
EPN October 04 – the digital edition went to a 15K bonus circulation – non EPN subscribers – the lists was based on the database from PCIM Europe (Europe), Elektronik Revue (Germany) and CIE (France), deduplicated with the existing EPN reader database.
EPN November 04 – the digital edition went to
– 4191 EPN subscribers who did opt for the digital edition – the November issue was the first issue distributed to the EPN subscribers.
– all other EPN subscribers who did not opt for the digital edition – the goal was to show them the new product & to increase the impact of our electronica issue.
– 20000 bonus distribution based on the same database used for the bonus distribution (PCIM Europe, Elektronik Revue, CIE) – again, this were people who were not subscribed to EPN
– 53279 digital copies distributed in total
Adding the 10K show copies for November, we distributed the November issue on 129K copies (regular print copy, show copies, digital edition).
EPN launches medical conference
November 28th, 2004
Following the success of this year's automotive conference, EPN has announced that it will be staging a new show Medictronic: Electronic Components in Medicine, to be held from 29th June to 1st July 2005 in Paris. The show will be orgainsed in partnership with another Reed title, International Hospital Equipment, and it will cover topics such as imaging systems, implantable electronics, medical power supplies, telemedicine, lab-on-chip, the use of smart card technology in recording patient notes, self diagnosis, and standards compliance. With the medical electronics market continuing to grow rapidly, this looks like a great move by EPN.
EPN launches digital edition
November 18th, 2004
EPN has launched its digital edition with the November issue, aiming to replicate the success of the launch of the electronic version of Electronics Weekly – another Reed title. The magazine uses the same technology from Olive Software, which we believe offers the best balance of the trade-offs that are inevitably associated with online versions of magazines. Unlike Electronics Weekly, you have to decide to receive either the electronic or printed version – EPN doesn't let you have both! The electronic version for November, however, also included the electronica company profile supplement, and even the Kontron loose insert for November was available electronically!
The launch of the electronic version included distribution of 20,000 copies to people in the Reed database – presumably mostly existing EPN readers. Whilst it is great to see Reed making a real commitment to delivering an online version of the magazine, the November circulation claims perhaps included quite a few readers receiving both online and printed copies. To be fair, Reed didn't try to hide this, and a good agency or marcom manager should have spotted it. Let's face it 100 000 circulation across Europe is still pretty impressive!
EPN running brand study in December
October 19th, 2004
Advertising in the December issue of EPN will mean that your company will be included in the 2004 EPN brand study. Although these studies are always run during quiet months to try to smooth out seasonal dips in advertising, EPN do a good job of the study, making participation worth considering.
Mardev to get access to EPN and EDN databases
October 1st, 2004
One of the worst-kept secrets in the industry has been the problems that Mardev has encountered in trying to offer a single database of all the registered readers of Reed's European publications for direct marketing campaigns. Buying names direct from the magazines has resulted in more contacts and better quality. Mardev have told us that they are getting direct access to the original databases of EPN and EDN Europe, which should fix most of the problems.
EPN asks readers to go digital
August 31st, 2004
EPN has sent out emails asking readers if they would prefer to receive the digital version of the magazine. Launching in November [when else in an Electronica year??], this follows the moves made by Electronics Weekly, and other Reed publications. Amongst the benefits include "No postal delays": something of particular relevance to UK subscribers, as the Royal Mail announced a couple of days later that it has missed all 15 of its 15 performance targets for the April-June 04 quarter.
EPN evaluates future options
August 24th, 2004
EPN, the largest circulation electronics title in Europe, has sent a questionnaire out to some advertisers that asks for views on both changing the size and also producing foreign language versions. Given the state of the market, a French and German version of EPN would be a very brave move, especially at a time when EDN Europe has recently pulled back from launching a German version. A size change may make financial sense by reducing print and postage costs, but is likely to prove unpopular with the many smaller advertisers who use fractional adverts.