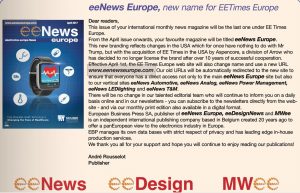 In what is probably going to be one of the least surprising moves in the electronics media this year, Aspencore has decided not to continue licencing the EE Times and EDN brands to European Business Press, and so the publisher is rebranding the two titles.
EE Times Europe will be rebranded eeNews Europe, while EDN Europe will become eeDesignNews. The editorial teams for the European titles will remain unchanged, and we're not expecting any major changes to the titles.
The vertical sites published by EBP will also be renamed with the "ee" branding. So we will be seeing eeNews Analog, eeNews Automotive, eeNews Power Management, eeNews LED Lighting and eeNews T&M sites launched (with the same content as the previous websites).
The official switch of brand will be on 1st April 2017. We're hoping to get an interview with EBP's publisher, Andre Rousselot to find out more. We'll also be talking to Aspencore at embedded world to find out whether they have any plans to use the EE Times and EDN brands in Europe.
Of course the driver behind the change is Arrow's acquisition of the UBM titles. I think it's hard to read too much into the move: frankly I would have been surprised if they didn't stop licencing the brands. We can guess that the media acquisition fever that Arrow had isn't going to be quite as virulent this side of the Atlantic (surely EBP would have been an obvious acquisition for them?) and of course Arrow clearly does want control of the titles they own.