We recently conducted a survey of the European electronics media and the results have been more than a little surprising! Although we're always a little cynical of conventional wisdom, we'd have expected a rather gloomy picture from the media as online revenue fails to replace rapidly declining print sales. What we found, however, told a very different story.
68% of European Electronics Publications Grew Revenue Last Year
Based on the publications that responded, things seem rather rosy. I was delighted that 68% of respondents said that their publications' revenue grew last year. It's great to see that so many are doing so well, and although most of the growth was between 5 and 10%, around one third of the publications grew by more than 10%.
Clearly the publishing industry isn't doing too badly. In fact, only one publication reported a revenue decrease of more than 5%.
When we asked how competitors were doing, the consensus was that competitors were probably declining. Clearly conventional wisdom has influenced publishers! The good news for them is that the market isn't as bad as they thought, but the bad news is that competitors are growing.
60% of Revenue is from Print Advertising
60% of revenue is from print advertising? It's 2019, don't you know!
We were surprised that more than half of the revenue for publications came from print advertising, three times the billings for online banner ands and six times the revenue from email newsletters. Email rental represented just 4% of revenue.
These are amazing stats, which are possibly due in part to publications in Eastern Europe skewing the figures. Despite this, it's clear that there is still a long way to go before print advertising disappears!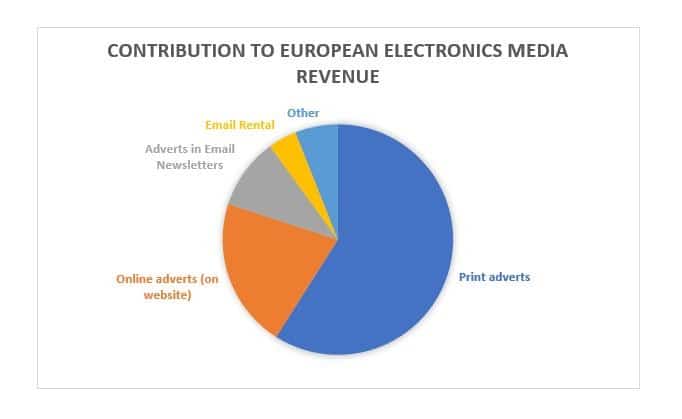 The Study
The research was carried out in July, attracting responses from 24 publications from around Europe.
More Information
We're working on further analysis of the study, and are sure to find other surprises. Keep checking the Napier blog and reading our newsletters to be the first to know when more results are announced!