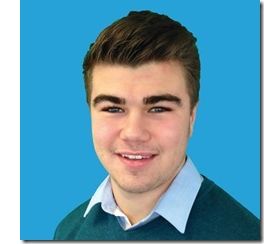 7 months in and it just keeps getting more and more interesting! I've definitely become a lot more involved in client work, and have been absorbing as much knowledge as I can.
Prior to starting Napier, I thought a lot about how I learn best, and whether or not I would benefit more from going to University. Since becoming an apprentice, however, I'm confident I made the right choice, and have been fortunate enough to gain practical industry experience, while developing in a role with the support of my colleagues.
Since my previous blog post five months ago, I've been given a lot more responsibility and am now heavily involved in a range of client activities, including the handling of one of our clients media competitions, as well as the collection and analysis of stats from another clients digital advertising campaigns. I also recently completed some market research to identify which publications engineers read to consume product and industry information, generating some great market insight.
In addition, I've been benefiting from both the fortnightly and online training provided by Napier. It's been great to learn about Google Analytics and SEO, and I'm excited to continue developing my knowledge in both areas. I've even put what I've learnt into practise on my mum's website.
It's great to have a busy schedule, and the next few weeks will involve completing various projects, as well as aiding the account managers with analysis, upcoming releases and marketing campaigns. My colleagues have been great at making me feel like a valued member of the team, and I'm excited to continue learning from them, as well as developing relationships with editors and journalists in the industry.
It's great that I can work and learn in an environment that is friendly, helpful and encouraging.
Now on the next few months!