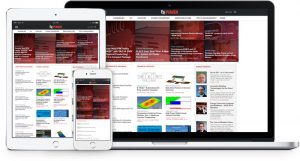 Power system design continues to be the electronics sector that is best served by publications with the launch of new digital title EE Power. This new USA-based title was founded by Adam Pitel, who is also the VP of Operations at Magna-Power Electronics, a high-power DC power supply manufacturer. It's good to see someone who is activity working in the power industry launch a title, and we're also pleased that EE Power has cut a deal with Bodo's Power Systems to be the exclusive English language digital channel for Bodo's content.
EE Power was created for an audience desiring in-depth technical knowledge and practice regarding the latest technological trends in power electronics, with content categories including: electronic assemblies, integrated circuits, passive components, power converters, semiconductors, test and measurement. In addition, a market insights section provides industry directions and viewpoints.
No Digital Magazine: Just RSS
Rather than create a digital magazine format, EE Power has created a number of RSS feeds, allowing readers to view the content in readers such as Feedly or Flipboard. They also offer an email newsletter as well as providing a feed into Apple News. This is an interesting move: will apps such as Flipboard soon mean that publishers no longer worry about creating flip book style digital magazines?
EE Power Advertising Trial Offer
We also understand that potential advertisers will be given some impressions free of charge to try the new platform. I'm sure this isn't going to last very long so book early to avoid disappointment!