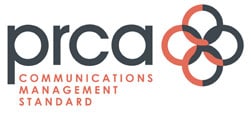 Congratulations to the whole team: we've passed our bi-annual PR Consultants Association (PRCA) Communications Management Standard (CMS) audit again. This is a challenging audit of our processes and procedures, particularly after the changes made a couple of years ago that introduced new auditors and beefed-up the requirements.
Benefits of CMS Accreditation for Clients
The PRCA outlines several benefits for our clients, including:
You will have peace of mind you are buying a professional service from a PR company that's committed to excellence
You will have the assurance that all CMS-accredited PR agencies are well-run businesses that adopt best practices in all areas of their organisation
No PRCA member agency can rest on their laurels once they've attained the CMS standard. Accredited agencies are continually assessed and have a formal review every two years, where they are rigorously tested by an independent auditor
The audit is carried out by Redfin who bring extensive experience and expertise to the audits as they are a leading consultancy to in the creative, media and technology industries.