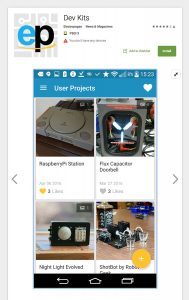 Electropages continues it's commitment to delivering engineering tools on mobile platforms with the launch of their mobile Dev Kit App that will keep design engineers up to date with the latest kits from manufacturers and distributors. The app is available for Android, and takes its data from Electropages' editorial reports and reviews on development and embedded tools. The new development kit app joins the existing popular mobile Electronic News Apps for iPhone, iPad and Android users.
Engineers are faced with an incredibly diverse number of Dev Kits from semiconductor companies, component suppliers and distribution companies. There are plenty of statistics that clearly indicate just how rapidly this market sector is expanding and industry analysts ABI Research reckon the installed base of development kits will reach 21 million by the end of the decade, and currently almost half of all electronics designs are facilitated by use of development kits.
Craig Dyball, publisher and founder of Electropages told us:
"Engineers have a mind-boggling choice of Dev Kits, whether it's a member of the Arduino family, a Raspberry Pi or an Intel Galileo or one of the many thousands available. Consequently informed comment via independent journalists is an unbiased way potential users and providers of Dev Kits can research the market and this is precisely why the Electropages Dev Kit app has been created."
It's great to see Electropages continue to invest in tools for mobile platforms as well as their conventional online publishing activities. The number of development kits is growing at an incredible rate as manufacturers recognise their value and also build kits to address specific amrkets such as makers. Many engineers are going to find this tool a valuable aid to selecting the right kit for their needs.