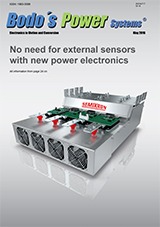 Congratulations to Bodo Arlt, who celebrates the 10th Anniversary of the launch of Bodo's Power Systems. After a rather challenging launch, the publication has grown strongly over the years, proving that a print title still has its place in our industry.
A Brief History of Bodo's Power Systems
The first print issue was launched in June 2006. In January 2007, Bodo introduced his email newsletter, which continues to deliver insight along with a healthy dose of Bodo's unique personality. After a couple of experiments with local language content, Bodo's Power China launched in 2012 and then as the circulation in North America grew he started printing in the USA in 2013. Most recently, Bodo announced a partnership with new publication EE Power, which is the exclusive English language digital channel for Bodo's Power Systems content.
Happy 10th Birthday Bodo's Power Systems!