Just over a month ago, LinkedIn started gradually rolling out its new desktop experience. This redesign was prompted by user feedback in an attempt to make using LinkedIn a faster and more intuitive experience and to be more consistent with the mobile app experience. As part of this project, LinkedIn has changed the way sponsored content will be displayed. With sponsored content providing the best ROI on LinkedIn for B2B marketers (according to our data), it's important to understand what the changes will mean.
What's new for LinkedIn sponsored content?
Navigation has been simplified and on viewing user's profiles, the new 'highlights' section makes it easier to see mutual connections, group memberships and employment history users might have in common.
Why does this affect B2B marketing?
As a part of this shake up, Sponsored Content ads will be displayed in a different format 'for an optimal viewing experience'.  This change means that Sponsored Content ads will appear larger in the news feed, meaning that images are more important than ever. In addition, sponsored content ads will no longer display description text.
See the screenshots below for a before and after view. The description text is underlined in red:
BEFORE:

AFTER: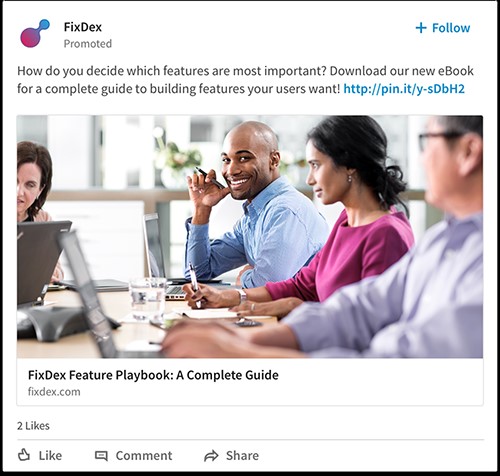 .
The removal of description text means that marketing messages in the introductory text need to be even clearer. When including links to landing pages or website pages, the sponsored content post title and image will be automatically scraped from these pages, so you need to ensure that your web content on these pages is relevant to your post topic on LinkedIn, if you're sponsored content is to be effective.
If needed an image can be manually uploaded and added to your sponsored content post, ideally with a pixel width of 200 or more. If the image is smaller than 200px, it will display as a thumbnail on the left-hand side of the introductory text.
Making the most of sponsored content introductory text
With the loss of description text, marketers have even less space to communicate. Although a LinkedIn post can include up to 600 characters, sponsored content posts only display the first 150 characters. If the text exceeds 150 characters, the post text will be truncated and "…read more" will be displayed to continue reading the remaining text. This is true for desktops but mobile devices may truncate the text earlier. Landing page URL's are also counted in the total number of characters and those over 23 characters are shortened by the LinkedIn shortener, this is especially worth noting if you are going to the effort of using a vanity URL. With the reduction in available text space, compelling and relevant copy (and landing page) is a must, if sponsored content posts are to be successful.
To achieve the best results from the new-look sponsored content marketers need to make sure posts fit the following best practice criteria:
Image Size: 1.91:1 ratio (1200x627px) Industry Standard
Introductory Text: 150 characters or less, including the landing page URL
Title: 70 characters or less
Learn more
To learn more about using LinkedIn, contact Napier or check out our page which features everything you need to know to succeed on LinkedIn.