What did we cover?
How digital tools can support and enhance marketing efforts, we also looked at role of digital marketing within the marketing and extended marketing mix.
Digital and the marketing mix
The marketing mix is your core 4P's of marketing (Product, Price, Place, and Promotion). These are the foundations for your marketing mix, but as time as progressed we now also have the extended marketing mix. This is made up of 7P's that are tailored for use in service industries (Product, Price, Place, Promotion, People, Process, and Physical Evidence).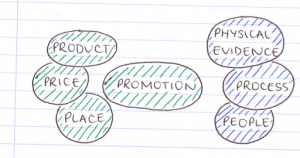 Below are the ways that these important P's can be thought about in a digital aspect:
Product – Digital products, brand rise and fall, digital enabled services
Price – New dynamic pricing strategies meaning that price can be updated in real time according to how popular the product /market is at that point in time, enhanced measurability of pricing, less overhead costs for eCommerce<
Place – Fewer intermediaries, global locations, digital product delivery 
Extended marketing mix::
Physical Evidence – All online collateral is consistent and recognisable with branding, higher use of customer testimonials in messaging, expert content enhancing brand confidence such as webinars
Process – Better customer communication, enhanced eCommerce platforms, introduction to customer relationship management (CRM) systems such as SaleForce
People –Social media marketers now commonplace, marketers now need digital skills, brand advocacy now actively encouraged
Digital communication and the online community
There are thousands of free, as well low-cost tools that can help us as marketers. The important point to remember is that integrated plans require a range of communications, which will depend on your segment and message focus.
Within the past ten years, digital has grown massively and marketing can now happen on almost every communication platform.
The digital communications mix includes the following:
Blogs and chat

Video sharing

Social networks

Wikis, user forums and groups

Podcasts

PSS

Widgets

Photo sites