The majority of B2B marketers understand the power of LinkedIn. As well as social networking, publishing content has become an influential tool that allows marketers to forge relationships with prospects. It is a great opportunity for you to show your expertise in your field and connect with others on a professional level.
Understanding how to create posts that hook readers and include a good call to action is imperative if you want to create leads. But what content is the right content? What call to actions should you use?  And what else should you include on these posts?
In this blog, I have accumulated some of the best LinkedIn posts in the electronics industry that I think are worth reading about. We hope this blog creates inspiration for you and your company.
Vicor Corporation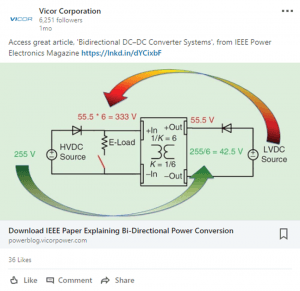 Vicor specialises in manufacturing high efficiency power supply systems. The corporation designs and develops modular power components and power systems.  Most of Vicor's LinkedIn posts include a call to action, for example in the post above; prospects can download an 'IEEEE paper'. The link will take them to a landing page where prospects will fill out personal details to receive a whitepaper.
Including a call to action within every post will help drive more readers to your content, improve the relationship between your company and customers and increase lead generation.
Although call to actions come in many forms, they all share components that make them compelling. Make sure your call to action is simple and concise, it shouldn't be highly sales focused and you need to think of how you can provide valued content to your readers and also give them an incentive to take action.
Panasonic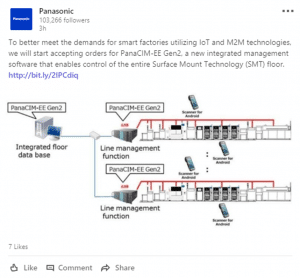 Panasonic is an established award-winning company for their range of electronics and SD appliances. On LinkedIn, Panasonic focuses on providing readers with product content and they also have a good flow of information on their page.
Engaging content on LinkedIn is imperative if you want to increase your reach, spark engagement and build brand awareness. Posting regular and valuable content will help create trust with your audience and present yourself as an expert in your field. As seen in the screenshot above, Panasonic gives a short and concise description for the LinkedIn Ad and includes a link for readers to find out further information.
Toshiba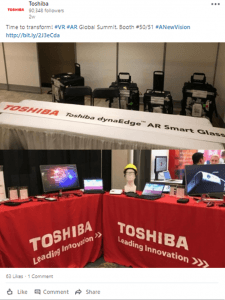 Toshiba has nearly 1 million followers on LinkedIn and uses great imagery on their posts.
Imagery is often essential to helping your content look engaging. Using relevant high-quality images are powerful with most people responding to visuals. When choosing an image for the ad, make sure it is high quality and is relevant to the post.
Siretta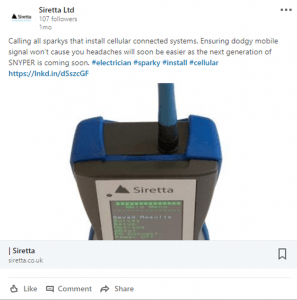 Siretta specialises in designing and manufacturing cellular modems and signal analysers.
Siretta's LinkedIn posts include hashtags, a useful strategy, even on LinkedIn. Using hashtags can help surface your post to people who may find it relevant and allows readers to find the post by searching for a particular word or phrase on LinkedIn.
Although using hashtags on LinkedIn may not be everyone's cup of tea if you do use them make sure they are relevant to your content, company and industry.
Read some of our other blogs: