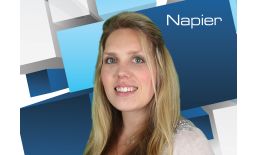 Great news! Due to an expanding client base, Napier continues to grow the team with the appointment of Sophie Thomas as account manager.
Sophie brings a wealth of social media and email marketing knowledge to Napier, in addition to her outstanding writing skills. She will provide strategic direction and campaign execution for a range of technology accounts, and will support the team with the development of technical articles and blogs.
She has both agency and client-side experience, including working as marketing manager for the UK's most successful reseller of KNX building communication technology, revolutionizing their marketing strategy and putting them on the map as a go-to resource for this technology.
Welcome to the team Sophie!