LinkedIn has gone a long way since it launched. From a tiny professional networking site it has become a strong marketing force.
Most B2B companies use social media to gather leads. According to HubSpot's research data – social media is one of the best three resources for lead generation, with small companies being twice as likely to get leads from social media than large companies.
However, with the recent developments on the online space, paid seems to be the only way to stay in the game. Pay to play strategies have been implemented into search engines and social media platforms more and more aggressively lately, hence in order to get results, you need to allocate some of your budget to these tactics.
But before you decide to take money out of your pocket, has LinkedIn been providing results to other B2B companies in terms of lead generation? From our experience, and the results out there on the world wide web, it seems so.
LinkedIn is one of the main lead generation tactics today however, don't expect social media to be the most effective source of leads as well. Buy you should not miss out on your marketing strategy plan. Moreover, from all the social media platforms LinkedIn is the most successful by far in terms of conversions with more than 80% of the leads generated from social media coming from LinkedIn.
Download our 30 Tips Tricks and Ideas for Lead Generation that might help you with your LinkedIn Campaign.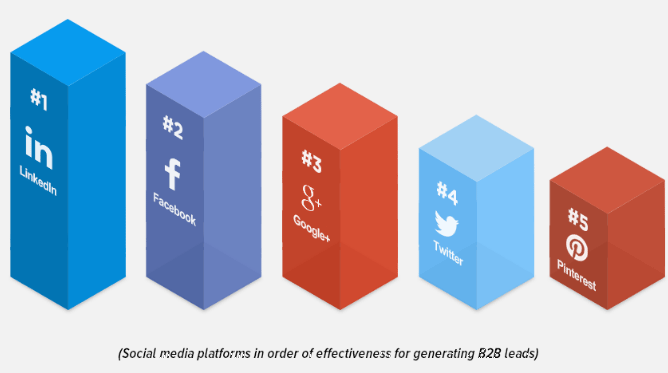 Source: Mediabistro.com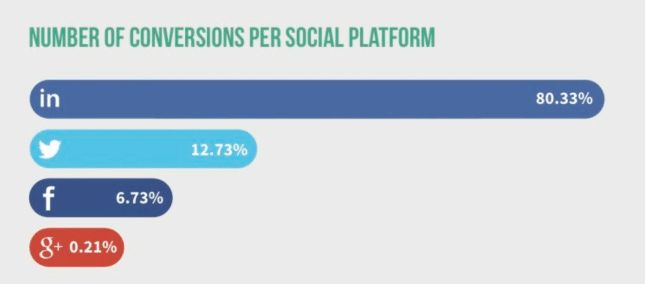 Source: Business2Community.com
Hence consider LinkedIn as part of your campaign promotional tactics. Here are some tips and things to consider when you decide to give it a try:
Turn your company page into a lead generation page by considering LinkedIn as a pipeline for leads to visit your actual website. So consider structuring your company page in a way that will lead to a conversion action.
You have the opportunity to use a header image in your LinkedIn company page. Why not use it as a call to action, like a downloadable whitepaper.
Create a Showcase Page. This is the perfect way to segment your inbound LinkedIn traffic. Showcase Pages are practically niche pages off of a company page. Are you working on different vertical markets, or promoting different types of products? Showcase pages are the way to go for you. Why, because you can target on leads in the automotive industry for example, or leads in the electronics industry etc.
Go for Sponsored Updates for lead generation. You can segment the audience you're interested in based on location, industry, job function, company etc.
Use LinkedIn's Autofill button for your forms, which grabs the user's account information and populates the form, which can potentially increase conversation rates, especially on mobile.
Check out our page 'LinkedIn – Everything you Need to Know to Succeed', for more information.