For Napier 2017 has been a great year, so we thought it was only right to share with you some of our best B2B campaigns we have worked on…
Vicor, Zero Volt Switching Whitepaper campaign
This content campaign aimed to promote the Vicor Zero Volt Switching whitepaper by encouraging people to fill in the form and download it, resulting in a list of marketing qualified leads for Vicor.
We started by promoting the whitepaper in Europe via a 3-part email drip campaign sent to an internal CRM list, which generated a successful open and download rates.
We also worked with Electronic Specifier on a specific whitepaper promotion package which included three months hosting on their website, daily newsletters and 2 custom emails.
So far, from all our promotional efforts, we have had over 350 downloads of the whitepaper and we're only half way through our campaign duration. From this success, we've now deployed the campaign in America and India too.

Vicor blog
The Vicor blog provides relevant content around the best, and most innovative use of Vicor products and solutions written for Power Engineers. This includes interviews, checklists, and promoting other Vicor content such as webinars, and whitepapers.
Last year Napier wrote 68 blogs, here's some of their most popular blogs from 2017
The blog has generated some of the most viewed pages on the Vicor site, proving that content marketing is an important part to any marketing strategy.
 
Anritsu webinar
Earlier this year we were asked by Anritsu to recommend a media partner to promote and host a webinar for them focusing on "Future technologies and evolution for Cellular Telecom Networks", with the objective of generating marketing leads. Anritsu were really pleased with the way the campaign was handled, but were delighted with the 440 marketing leads that the pre-and post-webinar activities generated.

Farnell EU Lead Gen with Electronics Weekly
Farnell's objective was to generate more leads across Europe with minimal budget, and with this we decided to run a competition. This competition ran in Electronics Weekly, Farnell element14 offered 3 lucky winners the chance of winning a STM32L4 Discovery Kit IoT Node. The competition was promoted by emails, banner advertisements, and blog posts.
The results were incredible, we exceeded client expectations and generated over 1000 leads! The landing page had more than 5,000 views, and a conversion rate of 20%.
Farnell element14 IoT Calculator
The objective was to create an informative piece of content that increased SEO value and traffic to the new IoT Hub website, also to increase PR coverage within the media. The inclusion of an interactive calculator tool was proposed by the SEO team at Farnell element14, designed to help engineers calculate battery life in IoT applications.
"The calculator really transformed a simple feature on battery life into something much more interesting that got us both SEO value and PR coverage."
Konstantina Papaioannou, SEO Analyst, Farnell element14
We wrote an article about IoT Battery Calculation, and created a simple tool that calculates the battery life for your IoT Application. You can read the article here
This campaign was a great success, the outcome was 32 different pieces of coverage spread out over 12 different countries which also generated over 900 visits to the calculator since page launch.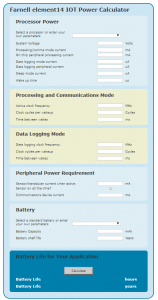 Farnell element14 Change the World
Premier Farnell's Change the World challenge for engineers, is a global campaign, which had to make a large impact with a small budget. The campaign engaged engineers around the world by exciting them with an opportunity to present their creative ideas, which would make a positive impact on the world.
This competition offered engineers the challenge of selecting $1000 of Farnell's products to create and achievable idea that would impact the world today.
Expectations of both the client and the agency were exceeded. This was demonstrated by the number of engineers and makers that took the time required to provide detailed information about their idea.
The outreach generated 30,000 visitors to the website, from 171 different countries exceeding the objectives and reflective the truly global reach of the campaign.

Farnell element14 HubSpot campaign
Farnell element14 have started using Marketing Automation, with HubSpot as their MA platform. Using HubSpot has meant that they can send personalised multi-language emails using dynamic content that pulls in data directly from their CRM, allowing the emails to incorporate product recommendations based on their purchase with links to the Farnell site.
These emails have increased open rates by 150% and successfully increased sales. Using HubSpot, we have been able to create drip campaigns and send to segmented lists based on customers buying habits, and also engage with customers that haven't been active for a said amount of time by giving them money off vouchers.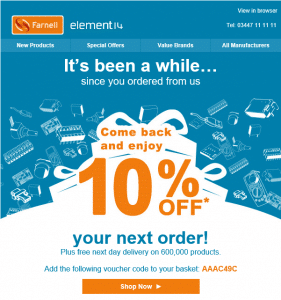 Vector book
At Napier, we love nothing more than seeing the results of our hard work especially client coverage landing in our inbox or on our desks. More importantly, our clients always enjoy seeing their coverage and over the years we have chosen to share this with them in different ways.
Recently, for our client Vector Software, we worked on a campaign to produce a series of articles explaining their approach to producing high quality software for embedded systems in cars, which secured excellent coverage across a series of top European automotive, electronics and testing publications.  So, rather than just compile a report we created a book: we curated the articles and other content from campaigns so that the clients could use it to showcase their products and services and thought leadership.
Vector were so impressed with the original book that they commissioned Napier to produce five books that curated all the company's collateral; data sheets, whitepaper, articles and fact sheets into five vertical industry books in English and German, which have proved to be a huge success at events and exhibitions.

IronCAD website plugin
IronCAD sell CAD software globally and have resellers around the world, each reseller had a different website to advertise their products. But, the problem that IronCAD faced was that each website looked different and didn't carry the same look and feel throughout.
Napier created a plugin that allows IronCAD to roll out websites with the same look and feel of the American version but, is adaptable meaning that resellers around the world could include their products, their own contact information and also localise the text where appropriate. This plugin meant for IronCAD that they could deliver consistent brand messaging across individual country sites, and ensures each website is targeted to the resellers country which improves SEO for all sites around the world.
Websites have now successfully been rolled to out to resellers in Germany, Spain, Taiwan, South Africa, Sweden, Belgium and the UK.