(Certificate in Professional Marketing (CIM) Level 4 – Intermediate)
It was approaching the end of my apprentice and the big cloud that dawned above me was, what's next…?
Over the past year and a half, I have thoroughly enjoyed my time as an apprentice at Napier. It's down to the experience I have gained, the things I have learnt, and of course everyone at Napier who has supported me on my path.
What's next?
So, I knew that I wanted to stay on with Napier, but more specifically, what comes next? I spoke to people around the office and found out about the Chartered Institute of Marketing (CIM), others have taken part in this certification at Napier to boost their marketing skills and qualifications.
CIM
The Chartered Institute of Marketing offer qualifications that are designed to help guide marketers through their career, and development. As I had previously completed the apprenticeship in digital marketing, I went direct to the Level 4 – Intermediate level, rather than the Level 3 – foundation certificate.
The CIM course is made up of 3 modules:
Marketing –
This module of the overall qualification is mandatory and it's recommended that you do this unit first, it goes into the role and function of marketing as well as covering what it is that influences buyers to buy.
Integrated Communications –
This module is also mandatory, it will look into the different communication methods for communication with customers, including both inside and outside the company.
And your choice of…
Customer Experience –
It's really important that you are be able to understand every aspect of your customer's experience in order to meet and deliver to the customer's needs, this module talks about how to monitor and measure customer satisfaction.
or…
Digital Marketing –
In this module it covers the digital marketing landscape, it looks at emerging technologies and how we can utilise these in our marketing. Another important topic that this module goes into is your digital tool kit, which is about how to use digital tools to enhance your marketing.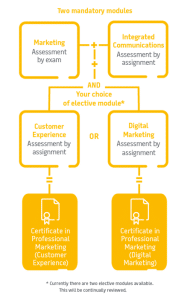 If you would like to see more information about the CIM certification, please visit https://www.cim.co.uk
What's next to come?
I will be putting together my weekly lecture notes into a series of 'Lecture notes' blogs, so that you can learn about marketing with me.
To stay updated, you can check the blog for my lecture notes.
Lecture notes
CIM Lecture notes – Week 1 – Digital disruption and the scope of digital marketing