Today there is a fundamental mismatch between the way in which companies market themselves and the way prospects look for information about a product or service they need. Interruption marketing, where you fight for a prospect's attention with intrusive advertising, is a thing of the past in a world where it's easy to search for information whenever it is needed. People don't want to be bombarded with sales messages at every turn, they want to be able to find relevant information that is useful to them and at a time convenient to them. The solution is the Inbound marketing methodology.
Move Your Prospects Through The Sales Funnel Faster
If you're looking to build your sales pipeline, marketing automation platforms such as Marketo, Hubspot, Act-On and Constant Contact offer a great set of tools to help you attract new visitors to your website, convert visitors to leads and ultimately close these people as customers.
Inbound Assessment
Complete the form below to request your free Inbound marketing assessment and find out if your website is an effective Inbound marketing tools and is optimized for lead generation.
The Buyer's Journey
HubSpot uses a simple model of the journey that every buyer takes when considering whether to buy your product.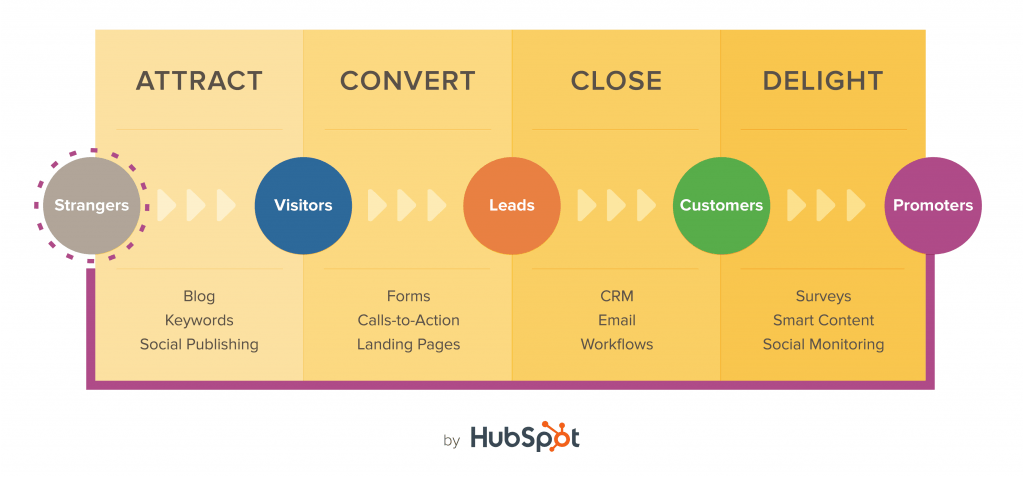 In the B2B world, attracting customers is achieved by building awareness. The next step is lead generation, converting these visitors into leads. By engaging these leads, you make them into sales opportunities.
Once you have won a customer, it's critical to keep them engaged. If you can delight your customers, so they will amplify your Inbound activities.
The Inbound Methodology
The Inbound approach is a customer-centric marketing strategy that brings potential customers to you, rather than having to fight for their attention. By carefully targeting content to the decision makers who will drive your business forward, Inbound marketing attracts qualified customers and moves them quickly from awareness to opportunity.
The main elements of Inbound marketing are:
Creating and distributing targeted content that answers prospects questions
Using a lifecycle model to move prospects through the funnel as quickly as possible
Personalising content to ensure you address the specific wants and needs of your audience
Integrated multi-channel marketing to ensure you communicate using the medium that has most impact for each prospect
Ready to start Inbound marketing? Complete the form opposite to get your copy of the Inbound marketing checklist.
Get the Inbound Checklist
Make Your Marketing More Effective
So what can companies like yours do to reach their prospects and promote their messages more effectively? How can you bring sales and marketing closer together to achieve your common business goals? What if there was a central hub where you could see all your social media analytics in one report, track how well your landing pages and calls to actions are working? Send emails to targeted lists to offer personalised and relevant content to your entire database simply and quickly as well as manage your prospects, leads and customer information?
Fully integrated marketing automation platforms do all this and more.
Build Awareness,  Nurture Leads and Take Control of Your Sales Pipeline
The Napier team have undergone extensive marketing automation training and know just how to get the most out of the Inbound Methodology for B2B Tech Companies.
Using marketing automation platforms we can:
Create and distribute personalised content
Offer a multi-channel approach with 1 platform
Integrate content creation, publishing and analytics
Create landing pages with high conversion rates
Create, send and monitor email campaigns
Publish and manage social media campaigns
Manage prospects, leads and contacts
Automate key marketing processes
Provide detailed ROI reporting
To find out more about marketing automation, get in touch with us – we'd love to talk you through how we can boost your B2B marketing campaigns.